We conducted a survey of British drivers to find out how much they knew about their insurance policies, from what's covered, to how much they pay, and how to make a claim. Click here to view a breakdown of what we discovered.
Our research has shown that 29% of drivers wouldn't know what to do if they had to claim on their car insurance policy.
We've put together this quick guide to help any drivers who are unsure about how to make a claim:
At the scene
Being involved in any kind of accident that damages your car is a stressful experience, especially if there's been a collision with another driver. The most important thing to do right off the bat is to to try and remain calm. If there's been significant damage and/or any personal injuries, make sure you contact the emergency services as soon as possible.
As far as insurance is concerned, there are three things you'll need to remember:
Exchange Details

You'll need insurance and contact details from any other drivers involved in the incident

Take Photos

It's important that you record the damage in detail - take as many photos as necessary

Note Time & Place

Make sure you take note of exactly where and when the incident occurred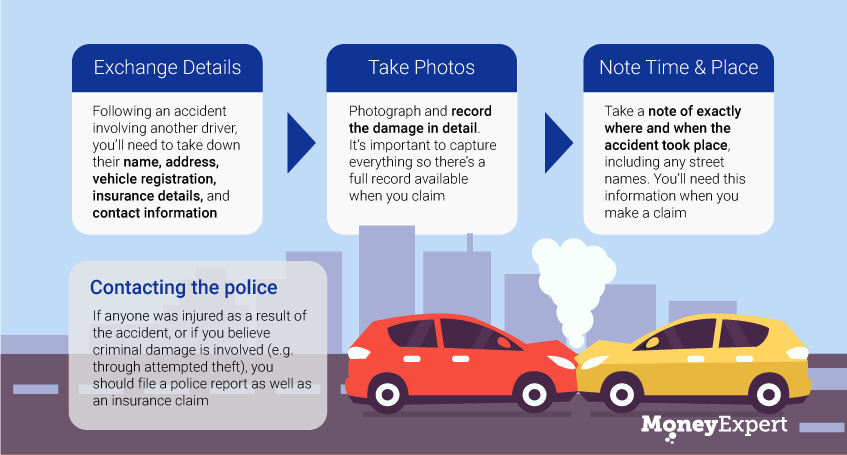 Before you claim
Once you've left the scene of the accident, you'll need to work out whether or not to make an insurance claim. This will depend on a few things:
First you should check whether or not you're actually covered for the damage in question. You can get a rough idea by checking what kind of policy you have. Third party only cover won't pay out to cover damage to your own vehicle, but third party fire and theft will if the damage came about due to a fire or attempted theft. If you've got fully comprehensive cover, the chances are your insurer will pay out for most things. If you've in any doubt, contact your policy provider to double check.
Next you'll need to assess who's at fault. This can sometimes be contentious in a collision with another driver. Other times in can be clearer - if a stone flicks up and chips your windscreen, you could lodge a no-fault claim. If you clip your wing mirror on a wall, you're probably at fault. No-fault claims typically won't affect your no claims bonus, but may still push your premiums up.
Finally you'll need to assess the damage and check the cost of repairs to see if making a claim is worth it. If the fix will only cost a couple of hundred pounds, and either you've got a large excess or the claim would affect your NCB and push your future premiums up dramatically, it might be worth just paying for the repairs yourself. Call a garage to get a rough estimate if you're unsure of how much it would cost to fix whatever's wrong.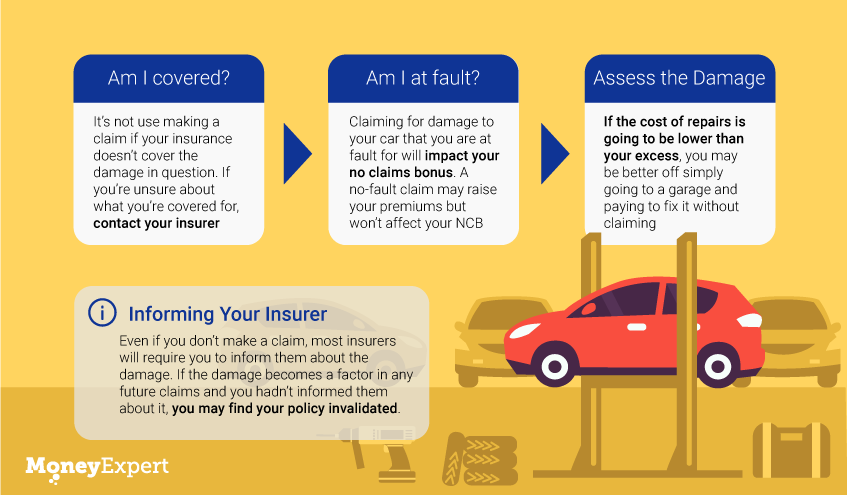 Money Expert CEO and car insurance expert Jason Smith says: "Insurance providers advise that you contact them any time you have an incident in your vehicle, even if you don't plan to make a claim. It's possible that this may increase your premiums slightly, but any underlying damage that you don't report could invalidate your policy if it factors into a future claim."
How to claim
If you've decided to make a claim, the first thing you should do is gather all of the necessary information, including all the details you collected at the scene. Contact your insurer with this info and they'll be able to make sure you're covered, and guide you through the next steps to formally register your claim.
It's key that you wait until you've done this before you make any repairs. Your insurer may have a list of approved providers who they'll pay out for repairs from, and if you choose someone who's not on the list, your claim might not be honoured.