Last updated: 29/10/2021 | Estimated Reading Time: 4 minutes
A guide to no claims discounts
Building up a no claims discount is one of the best ways ensure you get cheap car insurance quotes, regardless of where you look. The cost of your policy will go steadily down as you are rewarded for careful driving over time. Learn about how to make sure your policy offers a no claims discount, and about what kind of savings you can make with our guide.
In This Guide:
How do I qualify for a no claims discount?
Anyone can qualify for a no claims discount so long as they are the main driver on the policy in question. Even then, some insurers will allow a named driver to build up a discount, but only so long as they stick with the same car insurance company as and when they come to take out their own policy.
Almost all insurers will offer a no claims bonus if you can prove to be a careful driver, whether the policy is third party only, third part, fire and theft or fully comprehensive, but you should always check with your provider to make sure.
You can also take your no claims discount to other providers, should you switch insurance companies. While you may end up with less of a discount, the new insurer should still take note of your no claims history. By the same token, you should be able to transfer the discount to any new car you buy.
How does a no claims discount affect premium costs?
Your no claims discount will get better and better as time goes on, with many providers offering up to 75% off your car insurance premium if you don't make a claim for five years.
This makes a no claims bonus one of the best ways to sever the cost of your insurance, and so you should make sure you can capitalise on it if you can.
How much can you save with a no claims bonus?
We looked at over 50,000 quotes delivered through our platform over the last year to find out just how much an NCB can affect the premiums you're offered. 5 to 10 years without a claim can reduce your annual premiums by an average of £1,200-1,500.
The price difference between 0-5 years no claims is most stark, but even with just one year we saw average premiums drop by more than 25%.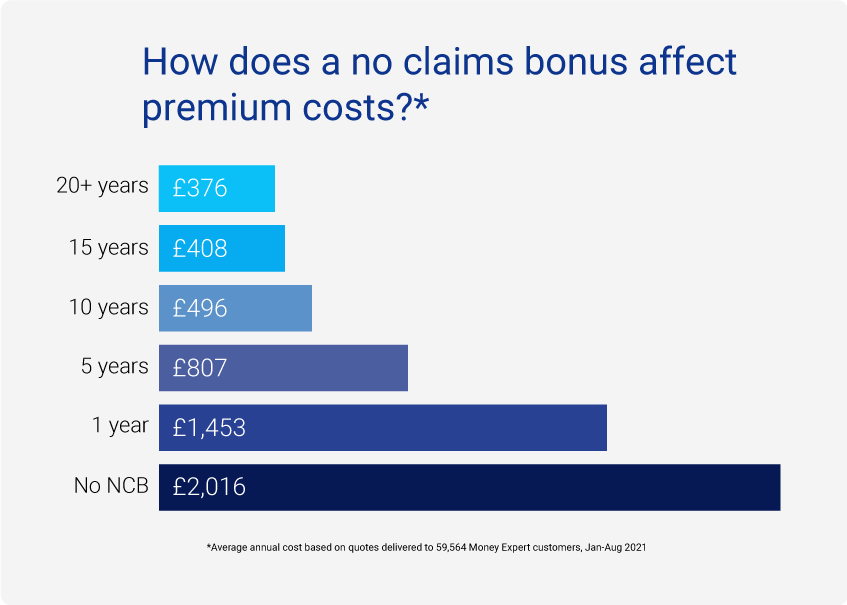 Here's the full results table:
| Years no claims | Average annual premium* |
| --- | --- |
| 20+ | £376 |
| 15 | £408 |
| 10 | £496 |
| 5 | £807 |
| 1 | £1,453 |
| No NCB | £2,016 |
*Average annual cost based on quotes delivered to 59,564 Money Expert customers, Jan-Aug 2021
Accelerated no claims discounts
Some insurers will offer an accelerated bonus, allowing you to build up your first year's discount in just 10 months and helping you to get your foot in the no claims door as quickly as possible.
You should bear in mind though, that even if your no claims discount is still going, you won't be protected from overall premium rises. You may find that your premium still goes up, just by a smaller amount than it would without your discount. Because of this, when you come to renew your policy, you should always shop around to compare policies with no claims discounts rather than just sticking with your current insurance provider for the sake of simplicity.
Minor damage and repairs
Because of the staggering savings possible with a no claims discount, many motorists will find that in the event of minor accidental damage to their vehicle, such as pothole damage, it makes more sense to just pay for the repair than it does to make a claim.
If the repair is only going to cost a few hundred pounds, then the combination of the excess you'd have to pay, and the loss of the discount should you make a claim, mean that just paying for the fix yourself is actually cheaper. For more information, read our guide to see if it's worth making a claim on your car insurance.
What kind of claims invalidate my no claims discount?
If you're involved in an accident through no fault of your own then, in general, your no claims discount should remain intact even if you claim, since the money for the compensation and repairs will come out of the pocket of the other driver's insurer.
Some minor damage, like cracks on your windscreen, can also often be claimed against without any effect on your discount. But as usual, this will all depend on the specifics of your car insurance policy document, so always check with your provider before making assumptions that could lose you money.
Protecting your no claims bonus
Most insurers offer drivers the option of protecting their no claims bonus for a small fee, usually around £25, allowing them to make a certain number of claims a year without losing the discount.
So whether you're looking to take out a new policy and start building up a no claims discount, or you've already got one and are looking to switch provider, check out our comparison service so see what kind of deals you can get and start saving today.