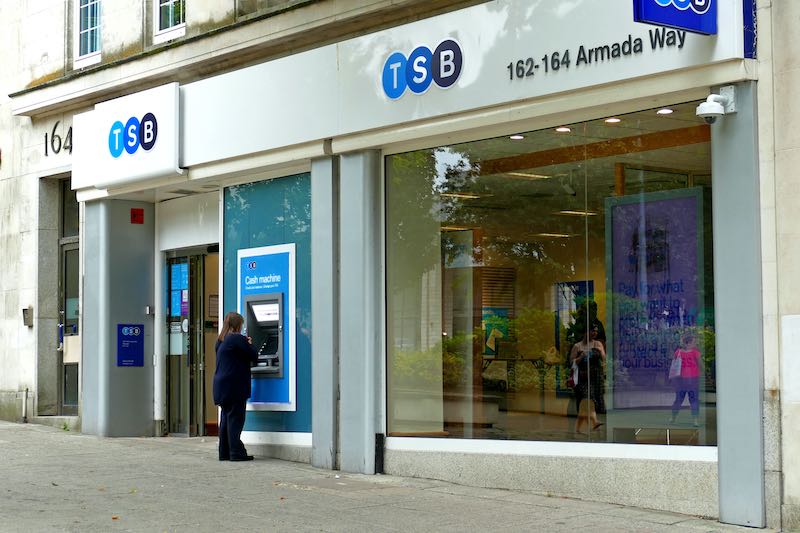 TSB to Close 164 Branches in 2021
TSB will close around a third of its high street branches in response to a "significant shift in customer behaviour" during the coronavirus pandemic.
164 TSB locations will shut next year, in addition to 21 closures previously announced, taking the total number of branches to 290. The bank attributed the closures to declining footfall and a surge in consumers using online banking during the coronavirus pandemic.
Chief executive Debbie Crosbie said: "Our customers are banking differently—with a marked shift to digital banking. This means having the right balance between branches on the high street and our digital platforms, enabling us to offer the very best experience for our personal and business customers across the UK."
With consumers staying home and many bank branches operating with reduced hours, Britons have embraced digital banking during the pandemic. In June, TSB reported that daily registrations for its banking app trebled, to nearly 3,500, since lockdown began and that it had also seen a 137% increase in customers signing up for its online banking services.
That trend has been echoed across the market. Fintech firm Nucoro found that six million people downloaded digital banking apps for the first time between mid-March and mid-April.
However, some consumers remain wary of internet banking. Santander found that 16% of over 55s still aren't using digital banking services. And an estimated 1.9 million households in the UK don't have access to the internet.
TSB users have a particular reason to be wary of online banking. In the spring of 2018, a catastrophic outage left 1.9 million customers unable to access their online banking accounts for several weeks. TSB ultimately paid more than £370 million in consumer compensation for the IT meltdown.
A smaller outage in August also locked users out of the TSB website and banking app.
TSB's closures, which the bank said were "not an easy decision," will also eliminate 969 jobs. The bank, owned by Spain's Banco Sabadell, already culled 929 jobs in August, when it phased out the role of dedicated branch cashier in response to a sharp contraction in in-bank transactions. At that time cashiers were given the option to retrain, change roles or take voluntary redundancy.
Unite slammed the bank for letting down employees and consumers. The union's national officer Dominic Hook said: "Unite has argued for some time that the financial services industry has a social responsibility not to walk away from its local customers who continue to need access to banking in bank branches."
He pointed out that seven years ago TSB had 631 local branches. By next year 55% will have closed.
The latest round of closures are in addition to the 82 branches TSB announced last November that it would mothball in order to save £100 million over three years. At the time of that announcement, TSB said it would also invest £120 million in its digital channels by 2022.
TSB isn't the first bank to slash branch locations and eliminate jobs during the pandemic. In August, Co-operative Bank said it would shut 18 branch locations and eliminate 350 jobs in response to "economic uncertainty," a profit squeeze caused by low interest rates and the move to online banking. NatWest Group will eliminate 550 jobs in branches and Lloyds Banking Group is slashing 865 jobs as part of a restructuring—although neither group has announced further branch closures yet.
These closures follow years of declining numbers of bank branches. In July there were under 6,500 bank locations in the UK, down from at least 9.803 in January 2015, according to figures from consumer group Which?
MPs and campaigners have raised concerns that some consumers could be left behind by the scramble to replace bank branches with digital platforms. The sector regulator, the Financial Conduct Authority (FCA) has proposed guidance which could compel banks to open shared locations in underserved communities or explore mobile branches.
In October, a six-month trial of shared banking hubs operated by the Post Office will launch at three locations, with major high-street banks participating.