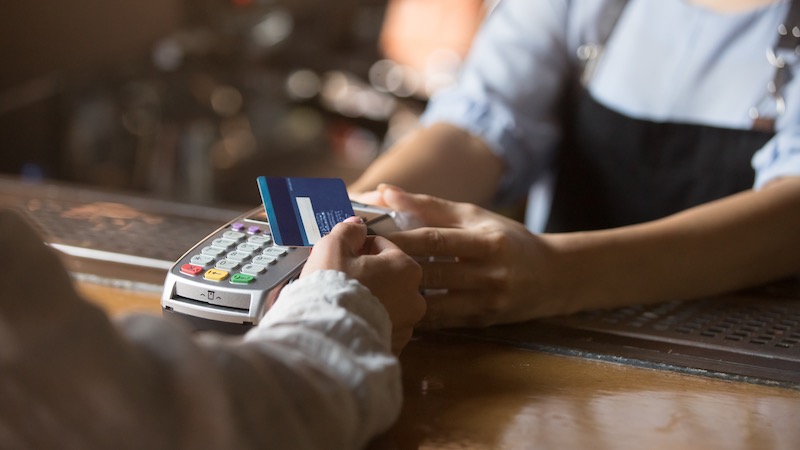 7.4 Million Britons Leading "An Almost Cashless Life"
Millions of Britons had already ditched cash in favour of card payments even before the coronavirus crisis made us wary of handling notes, new data from UK Finance has revealed.
Fewer than a quarter (23%) of payments last year were made with cash, down from 58% a decade ago. In total, Britons changed cash 9.3 billion times in 2019, down 15% from the year before.
While cash stayed in wallets and cash machines, more than half of payments were made by card, with debit cards the most popular, used in 17 billion transactions. Contactless payments on debit and credit cards are also up, by 16% to 8.6 billion. The popularity of tap payments will likely rise still further this year after the limit for contactless payments was raised to £45 at the beginning of April.
The remainder of payments were direct debits and bank transfers.
Ease of contactless payments and of exchanging money with apps has made living virtually without cash possible for millions of Britons. 7.4 million people now lead an "almost cashless life," meaning never use notes and coins or use them just once a month, a figure that has doubled in two years.
Young people were the most likely to shun cash, with one in four of those aged 16 to 34 qualifying as "cashless." However, there are people of all ages who prefer other payment methods, including 7% of over-65s. Altogether, one in seven Britons rarely uses cash, up from one in 10 in 2018.
Reliance on cashless payment methods "may have helped prepare customers for the changes they now face due to the coronavirus lockdown," UK Finance said. Some shops have stopped accepting cards and shop and bank closures pushed financial transactions online and to banking apps.
Cash machine network Link reported ATM transactions fell 60% in April, although £1 billion was still being withdrawn each week. Meanwhile, six million Britons downloaded banking apps for the first time between March and April, although older people are still wary of handling banking matters online.
Those changes may now "accelerate" the transition away from cash from millions more, UK Finance said.
The trade body has previously predicted that notes and coins will account for just 9% of all payments by 2028. It isn't publishing a new 10-year forecast this year because of the pandemic.
However, it cautioned that two million people are still primarily reliant on cash and said it is "working flat out" to ensure the public still have access to cash and everyday banking services.
Earlier this week, consumer group Which? warned that vulnerable people risk losing the ability to pay for everyday goods and services unless the government acts to shore up a "fragile" cash system already battered by ATM and bank branch closures.
The magazine found that one in 10 people have tried to pay a retailer in cash and been turned down. Many have also reimbursed in cash the family members and friends who have shopped for them during the lockdown.
Which? has called on the government to pass legislation to ensure the public's access to cash and to publish guidance on how retailers can safely accept coins and notes.
Gareth Shaw, head of money at Which?, said: "Failure to do so risks excluding millions of people from engaging in the economy."
Labour echoed the call, with shadow economic secretary to the Treasury, Pat McFadden, saying Which's research demonstrated an "urgent need" to protect access to cash.
"The impact of lockdown has accelerated the decline in the use of cash overall but it still remains a crucial means of paying for many people," he said.
"Without clear legislation, we risk the creation of cash deserts. We cannot allow financial exclusion of those who rely on cash purchases and face-to-face banking."