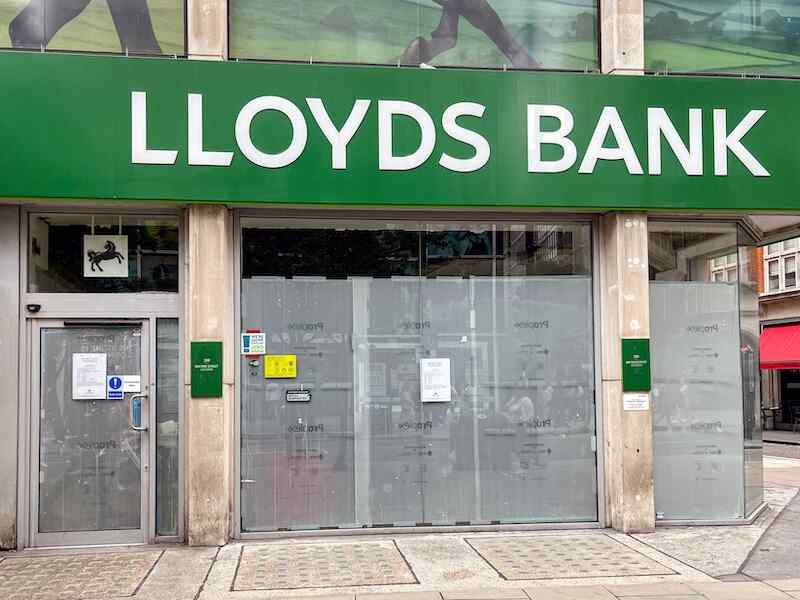 Lloyds and Halifax to Close 66 More Branches from October
The Lloyds Banking Group has announced plans to axe an additional 66 branches by January 2023, taking its list of closures to more than 200 in just over a year.
48 Lloyds Bank branches and 18 Halifax outlets will permanently shut between October 2022 and January 2023. The branches slated for closure have seen average visits drop by at least 60% - and sometimes as much as 85% - since 2016, Lloyds said.
Additionally, each of the locations is situated within one mile of a free-to-use ATM and a Post Office, where customers can perform basic banking tasks.
With 19 million online banking customers and 15 million mobile app users, Lloyds wants to ensure its branches are "in the right places, where they're well-used," said Russell Galley, director of consumer relationships at Lloyds Banking Group.
"Our customers have more choice than ever in how they bank with us. As our customers do more online, visits to some branches have fallen by as much as 85% over the last five years," he added.
Lloyds already shuttered 48 branches between January and April of this year and has previously announced plans to shut a further 60 branches between June and September and another 28 between August and November.
With all the announcements totalled up, consumers will lose access to a total of 202 Lloyds branches between January 2022 and January 2023. That includes 133 Lloyds Bank Branches, 50 Halifax locations, and 19 Bank of Scotland outlets.
But Lloyds isn't alone in shuttering branches. With big waves of closures from rivals Barclays, HSBC, NatWest, TSB, and Virgin Money, more than 400 banking outlets will disappear this year.
Derek French, a former NatWest executive and founder of the Campaign for Community Banking Services, said banks are scrambling to shutter branches before new legislation to protect consumers' access to cash takes effect.
The Financial Services and Markets Bill will give the Financial Conduct Authority (FCA) new powers to compel banks to maintain cash withdrawal and deposit facilities. The regulator has said that banks must produce impact assessments before they axe a branch or even close its counter service or slash its opening hours.
The 66 Lloyds and Halifax branches to close
| | | |
| --- | --- | --- |
| Bank | Branch location | Date of closure |
| Lloyds | Aldridge, West Midlands | 01/12/2022 |
| Lloyds | Axminster, Devon | 02/11/2022 |
| Lloyds | Barton-on-Humber, Lincolnshire | 02/11/2022 |
| Lloyds | Belper, Derbyshire | 03/11/2022 |
| Lloyds | Billericay, Essex | 10/11/2022 |
| Lloyds | Birmingham, Edgbaston | 09/11/2022 |
| Lloyds | Birmingham, Weoley Castle | 17/11/2022 |
| Halifax | Birmingham, Colmore Row | 25/01/2023 |
| Lloyds | Bishop's Waltham, Hampshire | 24/01/2023 |
| Lloyds | Bromyard, Herefordshire | 24/10/2022 |
| Lloyds | Caldicot, Monmouthshire | 16/01/2023 |
| Lloyds | Catterick Garrison, Yorkshire | 26/10/2022 |
| Lloyds | Cheadle, Greater Manchester | 31/10/2022 |
| Lloyds | Cheddar, Somerset | 09/01/2023 |
| Lloyds | Chigwell, Essex | 25/10/2022 |
| Lloyds | Cinderford, Gloucestershire | 09/01/2023 |
| Lloyds | Cleobury Mortimer, Shropshire | 12/01/2023 |
| Halifax | Coleraine, Londonderry | 10/01/2023 |
| Lloyds | Darlaston, West Midlands | 06/12/2022 |
| Halifax | Dorking, Surrey | 22/11/2022 |
| Lloyds | Guisborough, Yorkshire | 08/12/2022 |
| Lloyds | Helston, Cornwall | 24/01/2023 |
| Halifax | Hitchin, Hertfordshire | 10/11/2022 |
| Lloyds | Holyhead, Anglesey | 23/01/2023 |
| Lloyds | Immingham, Lincolnshire | 15/11/2022 |
| Lloyds | Llandrindod Wells, Powys | 16/01/2023 |
| Lloyds | London, Paternoster Square | 01/11/2022 |
| Lloyds | London, Earl's Court Road | 08/11/2022 |
| Lloyds | London, Leadenhall Street | 15/11/2022 |
| Halifax | London, High Holborn | 16/11/2022 |
| Lloyds | London, Edgware Road | 21/11/2022 |
| Lloyds | London, Nottinghill Gate | 22/11/2022 |
| Halifax | London, Tottenham Court Road | 01/12/2022 |
| Lloyds | Looe, Cornwall | 25/01/2023 |
| Lloyds | Lutterworth, Leicestershire | 27/10/2022 |
| Lloyds | Lytham St Annes, Lancashire | 31/10/2022 |
| Lloyds | Malvern Link, Worcestershire | 26/10/2022 |
| Halifax | Mitcham, Merton | 22/11/2022 |
| Lloyds | New Ollerton, Nottinghamshire | 31/10/2022 |
| Lloyds | New Romney, Kent | 07/11/2022 |
| Halifax | Newry, Armagh and Down | 08/11/2022 |
| Lloyds | Palmers Green, Enfield | 27/10/2022 |
| Lloyds | Purley, Croydon | 23/11/2022 |
| Lloyds | Pwllheli, Gwynedd | 12/01/2023 |
| Halifax | Rawtenstall, Lancashire | 24/11/2022 |
| Lloyds | Reading, Berkshire | 03/11/2022 |
| Lloyds | Redruth, Cornwall | 26/10/2022 |
| Halifax | Retford, Nottinghamshire | 28/11/2022 |
| Halifax | Ripon, Yorkshire | 14/11/2022 |
| Lloyds | Rothbury, Northumberland | 17/11/2022 |
| Halifax | Ruislip, Hillingdon | 07/12/2022 |
| Lloyds | Sandbach, Cheshire | 05/12/2022 |
| Lloyds | Sheffield, Intake | 03/11/2022 |
| Lloyds | Sheffield, The Moor | 09/11/2022 |
| Lloyds | Slaithwaite, Yorkshire | 26/01/2023 |
| Halifax | Stowmarket, Suffolk | 07/11/2022 |
| Halifax | Stroud, Gloucestershire | 30/11/2022 |
| Halifax | Tiverton, Devon | 29/11/2022 |
| Lloyds | Tonbridge, Kent | 29/11/2022 |
| Lloyds | Wallingford, Oxfordshire | 23/01/2023 |
| Halifax | Warminster, Wiltshire | 01/11/2022 |
| Lloyds | Welshpool, Montgomeryshire | 26/01/2023 |
| Lloyds | West Wickham, Bromley | 05/12/2022 |
| Halifax | Whitchurch, Shropshire | 17/11/2022 |
| Halifax | Windsor, Berkshire | 06/12/2022 |
| Lloyds | Wootton Bassett, Wiltshire | 06/12/2022 |
Sources