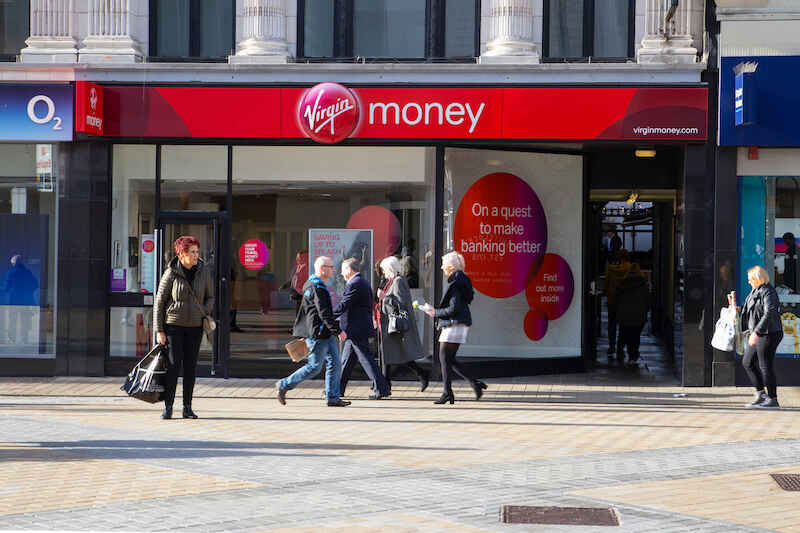 Virgin Money to Close 31 Branches
The movement of customers to online banking has prompted another bank to close the doors of some of its high street branches.
Virgin Money will shut 31 of its 162 branches in early 2022. The bank, owned by the Clydesdale Bank and Yorkshire Banking Group (CYBG) since 2018, said the closures were precipitated by customers' shift to digital banking. The number of customers using its branch locations for everyday transactions had been falling for years, a change accelerated over the last 18 months by the pandemic, it said.
Fergus Murphy, group customer experience director at Virgin Money, said: "As our customers change the way they want to bank with us and conduct fewer transactions in-store, we must continue to evolve the role of our stores into places where we showcase our products and bring our digital services to life."

But that will be little consolation to the customers who were locked out of Virgin Money's website and app for an entire day in April of this year due to an IT meltdown.
Virgin Money says it chose the locations to shut by considering their locations, proximity to other branches and alternative services such as free-to-use ATMs and Post Offices, ease arrangements, and potential impact of the closure on the local area, including vulnerable customers.
The bank says that 28 of the 30 customer stores that are closing are located within a third of a mile from a Post Office. One of the other branches is located 0.7 miles from a Post Office, while the other is 2.7 miles from another Virgin Money store. Virgin Money customers can use Post Offices for everyday banking transactions, including depositing and withdrawing cash, depositing cheques, making balance enquiries, and exchanging coins.
The 31st location that will close is the colleague-only store at Virgin Money's office in Gosforth, Newcastle. It closed during the start of the pandemic in early 2020 and will not reopen.
Virgin says that wherever possible it intends to find alternative roles for employees from the closed branches. However, it acknowledges that there will be job losses, with the branch closures resulting in around 112 full-time roles being cut. Those losses follow the cutting of 400 jobs at Virgin Money's head offices last year.
Following the closures, Virgin Money will have a network of 131 branches.
The locations to close are:
Airdrie

Grantham

Northallerton

Ashton-Under-Lyne

Keighley

Newcastle, Northumberland St

Banchory

Leeds

Horsforth

Nuneaton

Beverley

Leeds, White Rose

Oban

Blackburn

Lincoln

Portree

Broughty Ferry

Macclesfield

Selby

Chesterfield

Mexborough

Sheffield, Meadowhall

Cumbernauld

Milngavie

Stenhousemuir

East Kilbride, Princes Square

Musselburgh

Whitby

Galashiels

Nelson Wick