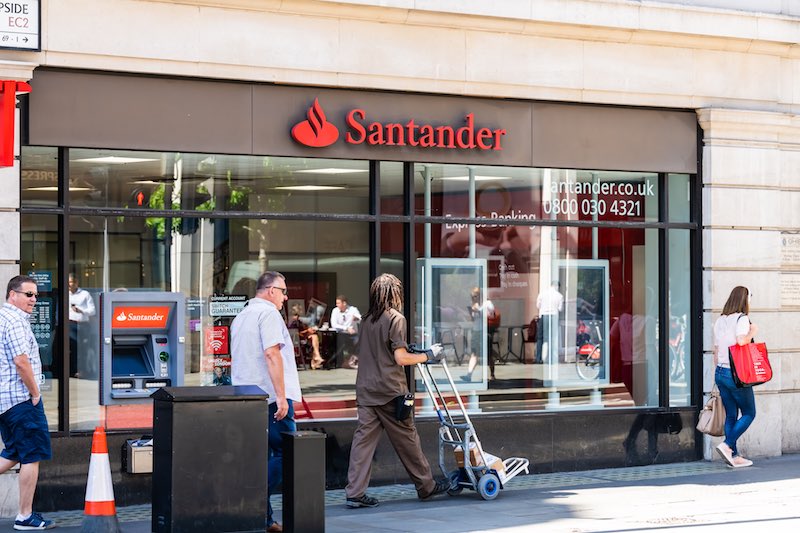 Santander Continues to Strip Its 123 Accounts of Perks
Santander will overhaul the cashback on its 123 accounts and double the monthly fee for the 123 Lite account from October, further eroding the perks of its once market-beating current accounts.
For customers with 123, 123 Lite, Private and Select current accounts, the cashback paid on mobile, broadband, TV and phone bills will be pinched, from 3% to 1%. However, customers will see a boost in the cashback they can earn on water bills paid by direct debit—from 1% to 3%.
For most customers these changes represent a loss, because they spend significantly more on their broadband, TV and mobile contracts each month than they do on their water bills.
The average water bill in the UK in 2020 is £33 a month, according to data from Water UK. With 3% cashback, customers will earn 99p on that bill, up from 33p.
In comparison, Ofcom says families spend an average of £105 a month on their broadband, phone, TV and mobile bills combined. Previously, they could earn £3.15 cashback on those bills. With the adjustments, this will fall to £1.05 a month.
Customers will continue to earn 2% back on gas, electricity and Santander home insurance and life protection policies and 1% on council tax.
Cashback is capped at a maximum of £5 a month in each of the three categories, or £15 total—a change introduced in May.
Additionally, the monthly fee for the 123 Lite Account—which pays 0% interest, compared to the 123 account's 0.6%— will rise from £1 to £2 a month. The 123 account will continue to cost £5 a month.
With the fee change, the maximum you can earn with the 123 Lite account will fall to £156 a year, down from £180.
The changes will take effect 27 October and mark the third time this year Santander has overhauled its 123 accounts.
In May, the bank slashed the interest paid on balances in the 123 account from 1.5% to 1% and capped the maximum cashback customers could earn to £15. It had previously been unlimited.
The interest rate paid on the 123 account will fall still further from 3 August, to 0.6%, in line with the cratering of rates paid on high-interest current accounts and savings accounts across the market.
However, Santander's 123 accounts remain the only current accounts available still paying cashback on bills, since Natwest and RBS stripped the perk from their accounts in February. To earn that cashback, you need to pay at least £500 a month into a 123 account and have two active direct debits.