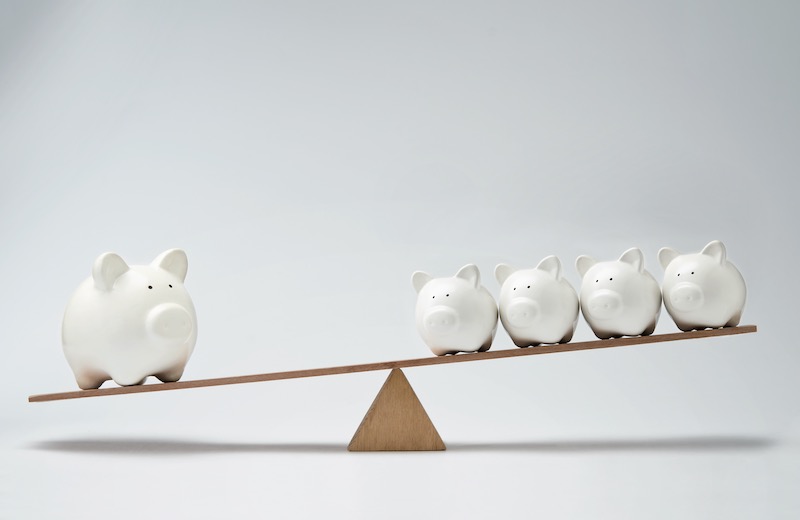 With Savings Accounts, Building Societies Outpace Banks
Rates on savings accounts have melted away nearly to zero since the beginning of the pandemic and the Bank of England's slashing of the base rate last March. But savvy savers can still snag a respectable rate of interest if they turn away from major banks and look to building societies.
Despite the abysmal rates of interest paid on many easy-access savings accounts, Britons are still pouring money into them, bracing themselves for more economic upheaval and squirrelling away cash they otherwise might have spent on holidays and meals out.
According to Bank of England figures, Britons stashed an additional £12.9 billion into easy-access savings accounts in November, taking the total in these accounts to £858 billion.
However, two-thirds of that money is stored with high-street banks which are paying rates as low as 0.01%. Investment platform Hargreaves Lansdown has calculated that Britons are missing out on more than £7 billion in interest each year by leaving their cash mouldering in low-paying savings accounts.
Building societies offer better returns, paying up to 1.65% interest. That's the difference between earning just a penny on a nest egg of £1,000 and earning £16.63.
Many of the best-paying savings accounts from building societies come with restrictions, for instance in the amount of money you can deposit or the number of times you can withdraw from them each year. Some are only available to savers in a certain area. But if you meet their requirements, you can earn a lot more interest on your savings.
The best buy savings account currently is Principality Building Society's Thank You Saver, paying 1.65% interest. It's exclusively available to NHS workers residing in the society's defined area in Wales. With the account, you can deposit up to £250 a month and withdraw up to three times per calendar year.
Darlington Building Society's Special Occasions Saver pays 1.25% interest for savers in postcodes DL, DH, SR, TS, YO and HG. You can deposit up to £250 each month and up to £750 for one month only and withdraw from the account a maximum of four times per calendar year. You can open the account at its nine branches or through the post.
Buckinghamshire Building Society's Regular Saver Locals pays 1.2% interest. It's available to residents of the county or one of the following postcodes: HP, SL, UB, WD, LU6, LU7, MK17, MK18, MK19, NN13, OX6, RG9. You'll need to make an initial £10 minimum deposit to open the account and then can deposit between £10 and £500 a month. There are no limits on withdrawals.
If you don't live in one of these areas, you can still find a deal from the national building societies. Coventry Building Society's Regular Saver 4 is available to everyone and pays 1.3% interest for 12 months, with maximum deposits of £500 each month. However, any time you make a withdrawal, you'll pay a charge equal to 30 days' interest. For instance, to take out £1,000, you'll need to pay £1.07.
Nationwide, the country's largest building society, offers the Start to Save account, which pays 1% interest on deposits of up to £100 a month. You can withdraw money as many times as you like for no charge. The account is available to savers in England, Scotland and Wales.