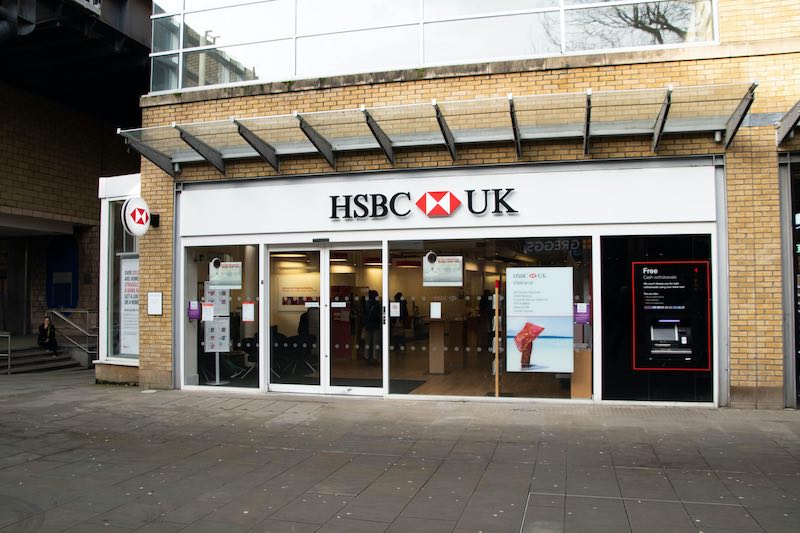 HSBC to Close 82 Branches This Year
HSBC will shutter 82 branches between April and September this year, responding to changing customer preference for digital banking.
The coronavirus pandemic has turned many customers to digital banking for the first time, but HSBC says it merely reinforced existing trends. The number of consumers using HSBC bank branches has dropped by a third in the past five years, and 90% of all consumer contact HSBC receives is over the phone, internet or smartphone. Additionally, staff engage with more than 100,000 customers a week through social media.
Jackie Uhi, HSBC UK's head of network, said: "The Covid-19 pandemic has emphasised the need for the changes that we are making.
"It hasn't pushed us in a different direction but reinforces the things that we were focusing on before and has crystallised our thinking. This is a strategic direction that we need to take to have a branch network fit for the future."
HSBC says that all but one of the branches slated for closure is within one mile of a Post Office, where consumers can make everyday transactions. However, you can't open or close an account or discuss financial products like loans or mortgages at Post Office locations.
HSBC says the closures won't entail any redundancies, with staff moved to nearby branches.
In addition to the closures, HSBC will recategorise its 511 remaining branches into one of four formats that "best suit customer needs, based on detailed analysis of customer behaviour." Full service branches, which will be located predominately in large cities and towns, will offer a full range of services.
Cash service branches will support more cash-intensive communities and also provide single over-the-counter servicing and deal with issues such as bereavement and the Power of Attorney.
Counterless digital service branches will support traditional cash and cheque transactions using self-service technology, with an emphasis on helping customers adopt digital technology. Staff will be available to meet complex non-standard service requests.
Pop-up branches will have temporary, movable presences in locations, helping customers with 'in the moment' queries, including setting up and resetting online and digital banking accounts.
HSBC isn't the only bank closing branches this year. TSB will close 164 locations this year and Barclays will shut 63. Lloyds Banking Group has confirmed it will proceed with plans which were delayed by the pandemic last year to shut 56 branches across its Lloyds, Halifax and Bank of Scotland branches.
According to Which?, by the end of the year banks will have shut nearly 4,000 branches since January 2015, nearly 40% of the total.
Campaigners have cautioned that the closure of bank branches may strand consumers without access to the internet and deprive communities of vital access to cash and more complex banking services.
To protect access to cash and face-to-face banking services, in September the Financial Conduct Authority (FCA) published guidance outlining the steps banks must take when closing a branch. This includes informing the regulator of its plans to shut branches as soon as possible, conducting out "robust" analysis of the lost access and potential harms resulting from the closure, particularly with regards to vulnerable customers, and assessing alternative provisions for customers.
Additionally, banks must notify customers of closures no less than 12 weeks in advance and make them aware of alternative provisions.