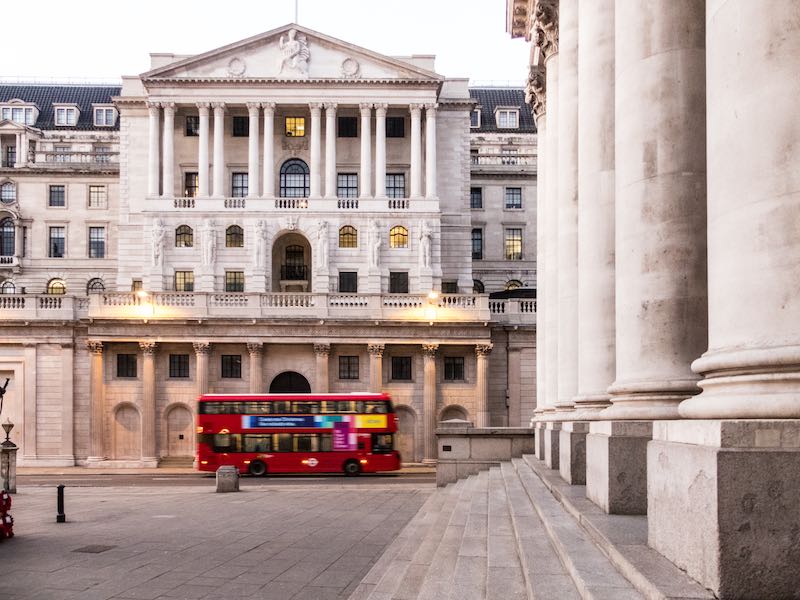 Bank of England Slashes Interest Rates Again, to Record Low of 0.1%
The Bank of England cut interest rates for the second time in two weeks, to bolster the economy against the coronavirus epidemic.
The latest cut, announced Thursday, took interest rates from 0.25% to 0.1%—the lowest level in the Bank's 325-year history.
The bank also increased its quantitative easing stimulus package, buying an additional £200 billion of UK government and corporate bonds to pump cash into the economy and keep down the cost of borrowing.
New governor Andrew Bailey, who took over from Mark Carney just Monday, said the measures were designed to calm markets spooked by the mounting death toll from COVID-19, crises in other economies and rumours that London will soon be forced into complete lockdown.
"The obvious increase in the pace and severity of Covid-19, which has built during the week, was something we had to assess and respond to, we can't wait for the hard economic data before we act," he said.
Markets reacted optimistically to the news, with the FTSE ending the day up 1.4% and the pound rising against the dollar.
The cut in interest rates and quantitative easing are "highly unlikely to highly unlikely to prevent a sizeable hit to [UK] GDP this year," analysts at Japanese investment bank Nomura said. But they added, "there can be no question that the monetary and fiscal authorities are throwing everything they can at this problem to support firms and households, cushion demand as much as is reasonably possible, and to reduce the long-term hit to supply."
However, there will be questions about what further action the Bank of England can take, after Bailey reiterated his reluctance to use zero or negative interest rates.
Bailey said the Bank was considering further monetary boosts it could make. "We are not done. The Bank of England will do what the public needs in the days and weeks ahead."
As interest rates plunged, some lenders moved quickly to withdraw tracker mortgages from the market.
Henry Jordan, Mortgage Director at Nationwide, said: "With a second cut in interest rates in just over a week, bringing Bank Rate down to an unprecedented 0.1%, we have taken the decision to temporarily withdraw all of the society's residential tracker mortgages from sale."
Other lenders, including Barclays, HSBC and Santander, said they would reduce their tracker and variable rate mortgages in line with the new Base Rate.
Among HSBC's tracker mortgages is a two-year deal which charges just 0.64% above the Bank of England base rate. Now pegged at 0.74%, the deal is believed to be the lowest interest rate ever offered for new mortgages. It's available to buyers with a 40% deposit, on properties worth up to £5 million—but buyers will need to act quickly. Brokers expect it too will be withdrawn from the market by next week.
Broker Aaron Strutt of Trinity Financial said the recent cuts had demonstrated the value of tracker mortgages. "About 95% of mortgages are on a fixed-rate basis, but if you'd taken out a tracker a couple of months ago your rate would have effectively halved."