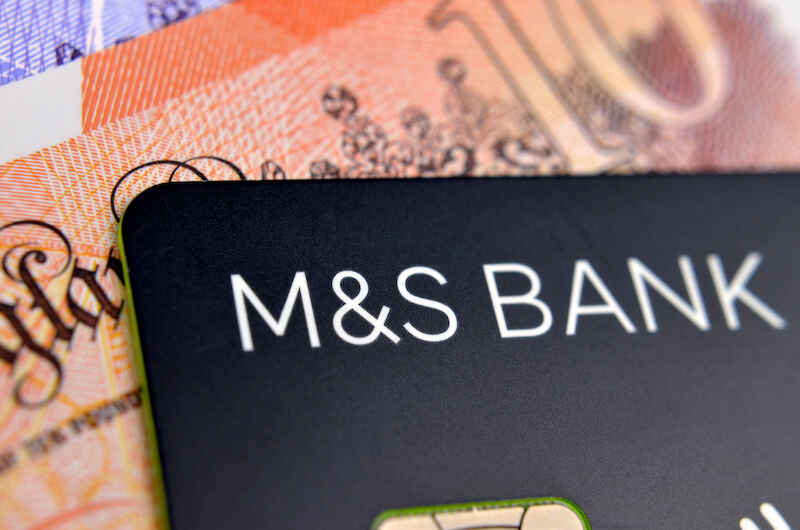 M&S Launches New Credit Card Rewards Scheme
Holders of a M&S Bank credit card will be able to access perks including vouchers for food and clothing and next-day delivery from the department store, as the bank launches its new Club Rewards scheme.
Existing Premium Club customers were given early access to the Club Rewards scheme in May, rolled over from their previous package. Now all holders of M&S credit cards can sign up, for a £10 monthly fee.
Participants will receive three reward points for every £1 spent in Marks & Spencer stores and M&S.com, the equivalent of 3% cashback. That's in comparison to the one point standard M&S credit card customers earn for £1 of spending in M&S and the two points the current M&S Credit Card Rewards Offer pays on £1 of spending with M&S.
The Club Rewards scheme will also give subscribers three points for every £1 spent abroad. M&S said its existing customers report that they like using their M&S credit card overseas and will do so again when international travel is permitted. You'll also earn one point for every £5 spent on the card at home and outside of M&S stores.
100 rewards points are worth £1 in M&S vouchers, automatically converted each quarter and sent out.
Other benefits include unlimited free next-day delivery for M&S online purchases—likely to prove popular as the home delivery bonanza continues into the post-pandemic world—and 32 hot drink vouchers for M&S Cafes per year.
Customers will also receive three £15 vouchers per year to spend in M&S's clothing and home departments, in store and online, along with a £20 clothing or homewares voucher at Christmas. M&S customers. Customers can also redeem a £12 voucher in M&S's Foodhalls on their birthday.
All the perks added together total £165 per year. You'll have to pay a £10 monthly fee but will still be £45 ahead per year if you take advantage of all the bonuses.
Kirsty Ward, director of bank and services at M&S, said: "Our M&S Credit Card program is unique and enjoyed by millions of customers and M&S Club Rewards offers even more for those who love M&S. This marks the latest step in our transformation to deliver truly rewarding payment experiences for our customers."
Paul Spencer, chief executive of M&S Bank, said: "In developing M&S Club Rewards, we've been listening to customer feedback over the last year and we've refreshed our reward card offering to reflect changes in the way customers are choosing to shop, with a range of new benefits, including free online delivery on M&S purchases and reward points for overseas spend.
"These changes will provide customers with more opportunities to enjoy even more of M&S and with greater flexibility to enjoy the vouchers they receive."
The launch of the new M&S rewards scheme comes as other banks gut their rewards credit cards. Last year, Nationwide ditched its Select Credit Card cashback scheme and Asda culled its own cashback credit card and this spring American Express slashed cashback on spending.
Virgin Money and MBNA have recently launched credit cards offering up to 15% cashback but only at a select, personalised list of retailers, few of them offering the breadth Marks and Spencer does.