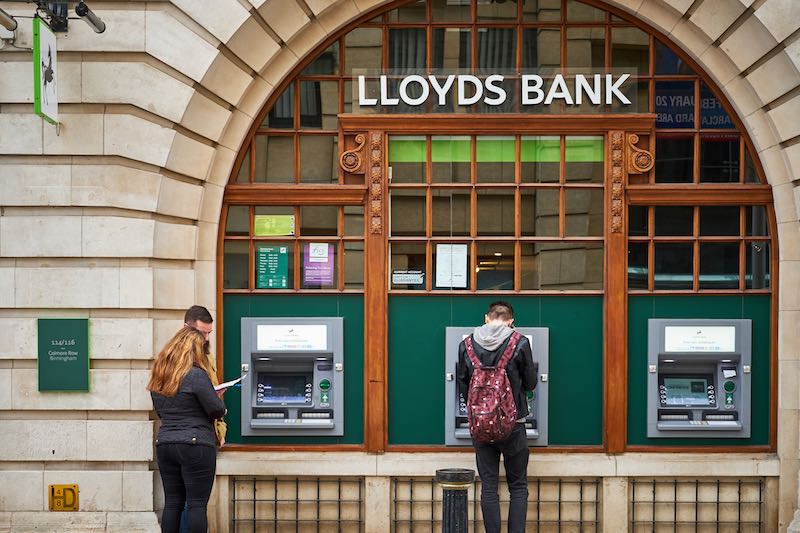 Lloyds and Halifax to Close 44 Additional Branches
Lloyds Banking Group will close another 44 branches in England and Wales this autumn, citing a decline in foot traffic at the locations and surge in online banking.
Lloyds said that use of its online platforms has soared, especially since the pandemic, with the number of users of its digital services rising from 4 million to 18 million over the past five years. Currently, 80% of its products are opened online.
Meanwhile, transactions at its physical branch locations have declined, falling 10% a year in the five years to March 2020, then even faster since the start of the coronavirus crisis.
In response, Lloyds will shutter 29 Lloyds branches and 15 Halifax branches between September and November. These closures are in addition to the 56 branch closures Lloyds announced in 2020 but delayed due to the coronavirus crisis.
Vim Maru, retail director for Lloyds Banking Group, said: "Like many businesses on the high street, we must change for a future where branches will be used in a different way, and visited less often."
He said that customers continue to have "choice in how they bank" with Lloyds. Branches sit alongside "telephone banking, online and mobile banking, our video appointment services, our cashback through local shops programme, our participation in the industry BankHUB cash initiative and 11,500 Post Offices, at which our customers can bank and access cash," he said.
Lloyds said a third of the branches slated to shut are located in large cities or towns with another branch nearby. 90% of customers will continue to have a branch within five miles of their home, it said.
Unite confirmed that the majority of impacted staff will be redeployed to other locations in the network, with some voluntary redundancies. However, the union accused Lloyds of "walking away from local communities."
Unite national officer Caren Evans said: "The decision by Lloyds Banking Group (LBG) to further erode its presence within our communities is baffling.
"The closure of 44 more bank branches will deny our communities of essential services such as access to cash and experienced highly trained staff. A local ATM is not a suitable alternative to a staffed bank branch."
Alongside the 100 closures of Lloyds branches this year, 82 HSBC locations, 111 Santander and 164 TSB storefronts will shut. Campaigners have warned that up to 40% of the UK's remaining bank branches could be mothballed by the end of the year, depriving some vulnerable populations of access to financial services.
Additionally, the country's businesses are worried about the impact of these closures on foot traffic in the high streets. Martin McTague, from the Federation of Small Businesses, said: "Bank branches are not only critical to those who still depend on cash - often society's most vulnerable, they also serve as a draw for shoppers, meaning footfall for surrounding small businesses," he said.

In September, the Financial Conduct Authority (FCA) issued guidelines outlining how it expects banks to handle planned closures, including analysing how customers may be impacted by the closures and detailing the alternatives available to them. In January of this year the regulator urged banks to pause or reconsider closures planned during the pandemic, warning that banks may be unable to assess the needs of consumers while pandemic restrictions are still in place.
Meanwhile, a pilot projects is currently running to test the viability of shared banking hubs, run by the Post Office, with staff from each of the major high street banks visiting one day a week.

Lloyds branches scheduled to close
Bournemouth Westbourne
Cardiff Rumney
Leeds Horsforth
Northwood
Stony Stratford
Church Village
Morley
London Regent St
Oakham
Brixham
Quinton
Mildenhall
Berkeley Square
Faversham
Brighton Preston Circus
Gants Hill
Halstead
Holsworthy
Henley-on-Thames
Hendon
Kempston
Towcester
Kentish Town
Tadley
Bromborough
Cheltenham Bath Rd
Haslemere
Newport Maindee
Sedgley Dudley

Halifax branches scheduled to close
Manchester Cross St
Plaistow West Ham
Chesham
Chertsey
Fleet
Harpenden
Potters Bar
Kenilworth
Hinckley
Market Harborough
Upminster
Rugeley
Cheshunt
Pinner
Chesterfield Cent Pavilion