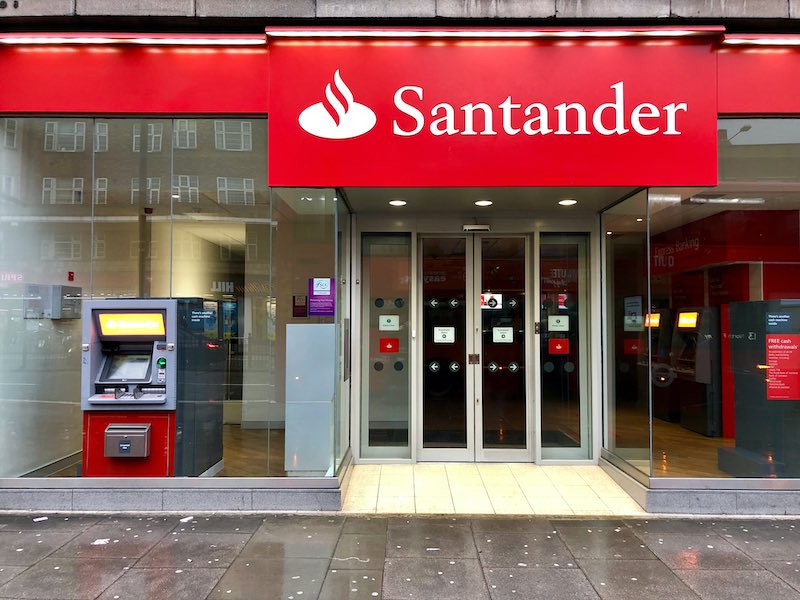 Santander to Close 111 Branch Locations
Santander will close 111 high street locations by August after the pandemic accelerated a shift to mobile and online banking.
The Spanish-owned bank has seen foot traffic at its more than 500 branch locations in the UK plummet in recent years. It reported that in the two years before the start of the coronavirus crisis, the number of transactions handled in branches fell by a third. Last year, social distancing restrictions and consumer worries drove in-person transactions down by a further 50%.
Simultaneously, customers have embraced Santander's internet and app platforms. Mobile and online transactions have grown 20% each year and two-thirds of Santander's transactions are now completed without customers visiting a branch.
Adam Bishop, head of branches at Santander, said: "Branch usage by customers has fallen considerably over recent years so we have made the difficult decision to consolidate our presence in areas where we have multiple branches relatively close together."
The bank said the majority of shuttered branches are within three miles of another Santander branch. The furthest is five miles. Additionally, all are within a half-mile of at least two free-to-use ATMs and one mile of the nearest Post Office, where current account customers can deposit and withdraw cash, deposit cheques and check their balances.
Branches will begin shutting in August and all 111 will have been mothballed by 12 August. At that point, Santander will have 452 remaining locations.
The withdrawal from the high street will put 840 jobs at risk, with Santander saying there were opportunities in other parts of its business for at least 200 of these employees.
Santander isn't alone in reducing its high street presence. According to an analysis by Which?, 4188 bank branches have shuttered across the UK since January 2015. Most recently, HSBC announced it would shutter 82 branches in 2021, while TSB will shut 164. Lloyds Banking Group has also confirmed that it will proceed with plans delayed by the pandemic last year to shut 56 Lloyds, Halifax and Bank of Scotland branches.
Santander is also consolidating its offices in response to changing working patterns. Its Bootle, Newcastle, London Portman House and Manchester Deansgate offices will close. The bank's UK headquarters will also relocate from London to Milton-Keynes, reducing the amount of expensive office space the bank rents in the capital.
The office closures will impact 5,000 staff members, but Santander insisted their jobs aren't at risk. Instead, they will be asked to work from home more frequently or travel to its remaining offices in Belfast, Bradford, Glasgow, London and Sheffield and the Milton-Keynes headquarters.
Santander UK chief executive Nathan Bostock said: "The pandemic has accelerated the existing trend towards greater flexible working, and our colleagues have told us this has brought significant benefits for many of them.
"At the same time, physical spaces remain very important and our sites around the UK will provide our colleagues with first-class facilities fit for the future."
The news of Santander's office shake-up comes as Nationwide Building Society announced that 13,000 of its office staff will be allowed to choose where they work, relocating to its headquarters in Swindon, working from home or dividing time between the two.