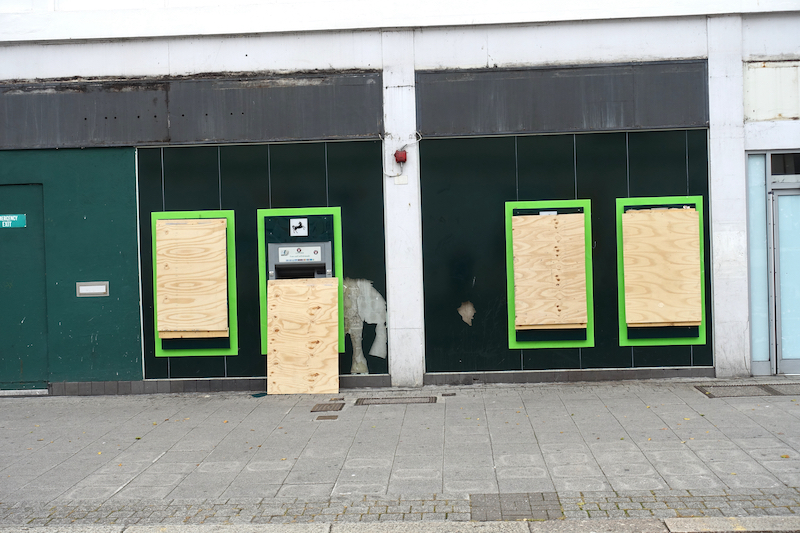 Abandoned High Street Branches Should Be Hubs Shared by Banks
Up to 40% of the UK's high street banks could shut by the end of the year, prompting calls to turn abandoned branches into hubs shared by banks.
Natalie Ceeney, campaigner and former head of the Financial Ombudsman Service, says the government must take "urgent action" to protect communities' access to cash and banking services ahead of this impending wave of closures of branch locations and ATMs.
Santander confirmed last month that it will close 111 branches by the end of August, after the pandemic reduced in-person transactions by half and accelerated the movement of customers to digital platforms.
HSBC will axe 82 branches this year, while TSB will close 164. Lloyds Banking Group will also proceed with plans, first announced in January 2020 and delayed by the pandemic, to close 56 Lloyds, Halifax and Bank of Scotland locations.
Some campaigners have warned that up to two in five of the UK's bank branch locations could be mothballed by the end of 2021. The impending closures follow years of contraction in banks' high street footprints. Previous analysis from Which? found that 4,188 bank branches have closed across the UK since January 2015.
Ceeney says that some of these doomed branches should be converted into banking hubs offering basic banking services to personal and business customers of all the country's major banks.
These hubs, which could be run by the Post Office, would allow customers to deposit and withdraw cash and deposit cheques. On certain days of the week, they could also meet with representatives of their banks to discuss more complex financial issues or open accounts.
"Such hubs would breathe life back into struggling communities," Ceeney told The Mail on Sunday.
However regulations will have to change for banks to get on board, she said. Otherwise, banks would worry about falling foul of competition laws by being seen to be colluding.
The banking hub model is already being used in some of the eight pilot schemes safeguarding access to cash that have recently launched.
The initiative is trialling new ways of making cash available in local communities, including allowing people to pre-order cashback from local shops through an app, improving Post Office facilities and installing free-to-use cash machines in communities that previously didn't have access to one.
Cambuslang, South Lanarkshire and Rochford, Essex are trialling the banking hub model favoured by Ceeney.
Rochford hasn't had any banks since its Barclays brand shuttered in 2017 and has only two cash machines, one charging fees. Its Post Office-branded banking hub opened earlier this month in a former carpet shop, with a free-to-use ATM and an automated deposit machine that allows individuals and businesses to bank cash and cheques. A counter allows people to complete personal banking tasks.
On each day of the working week, two representatives from one of five banks—Barclays, HSBC, Lloyds, NatWest and Santander—help customers with specific financial issues and open accounts.
The pilot projects are being backed by major banks, consumer groups and small businesses and overseen by a board chaired by Ceeney. However, each is expected to run for just six months due to limited funding.
The Post Office has downplayed the importance of banking hubs, suggesting that they largely duplicate the basic banking services already offered at its 11,500 branches.
Martin Kearsley, director of banking at the Post Office, said: "While [banking hubs] offer much promise, they are not a solution to this [access to cash] problem in isolation. Post Office branches provide critical cash deposit and withdrawal services for millions of personal and business customers every week.
"There must be a continued obligation on retail banks to provide access to cash withdrawal services free at the point of service for both consumers and businesses across the country."
Campaigners say safeguarding access to cash in the long-term will require government legislation to pressure banks and regulators to back novel solutions. The government has yet to follow through on a pre-pandemic pledge to introduce such legislation.