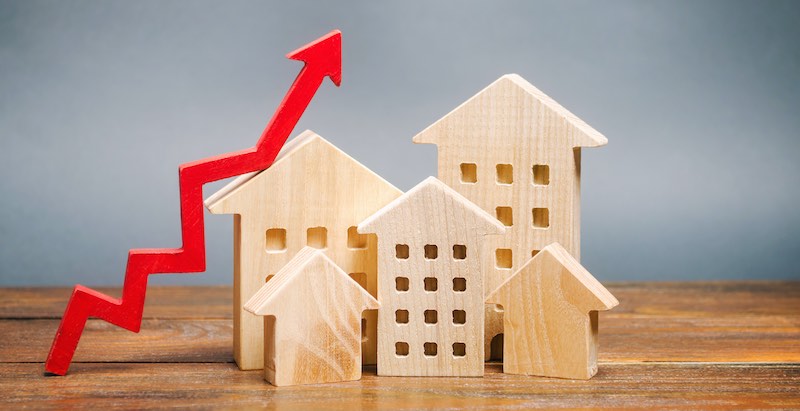 Mortgage Rates and Fees Rise
Home-buyers are being hit with a triple whammy of high interest rates, high fees and a dearth of cashback offers on mortgages.
Average interest rates for fixed mortgage deals across all loan to value (LTV) ratios have risen sharply since July. Fixed-rate deals with a fee were up 0.51%, to an average of 2.80%, and those without a fee climbed 0.46% over four months to hit 2.74%, according to data from Moneyfacts.
The interest hikes have increased the monthly cost of a 25-year £200,000 mortgage with a fee by £52 to £928. The monthly bills on those without a fee have risen by £47 to £922.
Although the Bank of England slashed the base rate to a record low of 0.1% in March, lenders haven't been passing on the lower interest rates to mortgage borrowers, but instead have increased rates across the year.
However, rates on fixes are still slightly lower than they were last November—by 0.09% for deals with a fee and 0.22% for those without.
Higher interest rates impact monthly payments, but prospective homeowners are also facing higher upfront charges, with mortgage fees rising for the fifth consecutive month.
The average fee paid to the lender for a mortgage is now £1,078—£60 higher than in June and the highest figure Moneyfacts has recorded since November 2012, when fees hit an average of £1,095.
Those looking to avoid soaring fees will find it tougher to locate a deal. Fee-free deals now make up just 34% of the fixed-rate mortgage market, compared to 42% last November.
Anyone hoping to defray some of this cost with cashback is also out of luck. Just 25% of fixed-rate mortgages offer a cashback incentive, down 8% since June.
However, lenders are continuing to offer other incentives to borrowers, including free or refunded legal fees and free valuations.
Conveyancing fees paid to solicitors typically run between £850 and £1,500. 54% of fixed-rate mortgages cover part or all of these fees, up from 50% last November.
69% of fixes offer free valuations, for savings of between £150 and £1500, depending on the value of the property.
Buyers will get relief from spiralling mortgage costs with the stamp duty holiday, running until 31 March 2021 on properties worth up to £500,000. A reprieve from stamp duty means savings averaging £4,500 and up to £15,000 on home purchases.
However much of those savings will be eroded by a recent increase in house prices, partly driven by a scramble to take advantage of the stamp duty relief.
Average house prices rose 4.7% in September to a record high of £245,000, according to the Office for National Statistics (ONS).
In London, the price rise was especially steep, with the average house worth £30,000 more in September than when lockdown was first lifted and the property market reopened at the end of May. Land Registry reports that the average cost of a London home has reached an all-time high of £496,486.