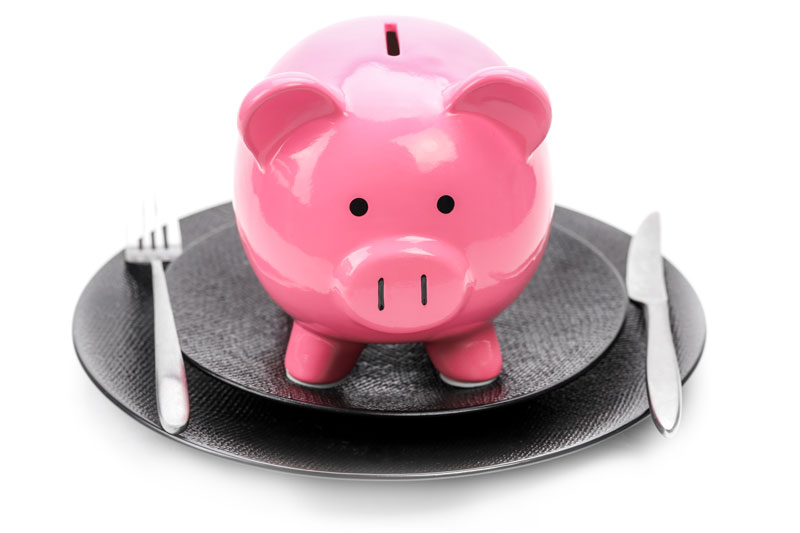 How to Stretch Your Monthly Food Budget - 8 Top Tips
 In 2018, the average British household spent £91 a week on food and non-alcoholic drinks, for a yearly total of £4,753. That includes £60.60 a week spent on food prepared and consumed at home, and £30.80 on food 'eaten out,' including both restaurants and takeaways. Altogether, that means 16% of our budgets went toward food. Furthermore, according to data we recently collected, almost half of Brits aged 25-34 have admitted to having to skip a meal because they were too low on cash.
With food prices rising—the prices of bread, meat, cheese, and eggs have all leapt by a third in the last decade—expect to devote more of your pay packet to eating, whether in or out, in the future.
Are you spending above the average? Or just looking to reduce your overall household expenditure? Splashing out on premium ready meals and ingredients for dishes you forget to make? Tired to binning out of date Greek yogurts and moulding bread? Here are eight tips from us on how to trim your grocery bills and overall food expenses and cut down on food waste as a bonus.
Make a shopping list—and stick to it
You probably recall your mother wheeling a shopping trolley around with a tattered shopping list in her hands. Maybe she kept the list stuck to the fridge and added to it as the week went on, as empty milk bottles and depleted cereal boxes hit the bins. And (not for the first time) your mother was doing it right.
If you make a shopping list, you'll know exactly what to buy and in what quantity. You can even predict how much it will all cost. You also won't spend ages wandering around the supermarket, filling your basket with tasty splurges and falling to sweet temptation at the checkout line.
And forget the page ripped out of a spiral notebook and misplaced in your car or purse. Smartphones and apps make it easier these days to keep track of what you need for the next week or that Bolognese.
Plan meals ahead
This ties in with making shopping lists. Think about what you're going to eat, and when, and work out what you need to buy accordingly. A week or two of pre-determined dinners not only reduces last-minute meal prep stress, but it can save you money by cutting out wastage. If you're savvy, you can plan so all the ingredients you buy are used up, whether in a sauce or in a sandwich.
Planning large meal on a Sunday, with extra portions that can be set aside to eat throughout the week, is a great way to save money on lunches during work days.
Think twice about special offers and supermarket displays
Supermarkets know just how to tempt us away from our lists. Something may be on offer and part of a lavish display at the end of an aisle, but do you really need the supermarket's weekly special buy? Buy one get one half price on Doritos isn't a great deal if you didn't need Doritos to begin with! Unless you normally buy these items—in which case, stock up—it's best to avoid tantalising sales. Your budget (and probably your waistline), will thank you for sticking to the items on your list.
Aim for just three big shops a month
All those last-minute runs to the corner shop for milk or trips past the supermarket on your way home from work add up, especially if you're going in for a dozen eggs and emerging with enough crisps and soda for a children's party. Try to do one large shop every 10 days and avoid top-up shops. If you run out of something, get creative with what remains in your cupboard
Devote one of these monthly shops to buying in bulk items that don't go out of date, like bottles and cans.
Cut down on (or cut out!) meat
Livestock agriculture accounts for half of all man-made carbon emissions, so ditching meat and dairy and eating a plant-based diet is one of the most effective ways to reduce you carbon footprint. It's also cost-effective. An academic study over in the US found that a year's worth of a vegetarian diet costs $750 (around £575) less than a diet that includes meat.
 You don't have to swear off chicken and pork permanently to find savings though. Nearly a quarter of Britons cut down on their meat consumption in 2018, mostly for health environmental and health reasons, and saved an average of £209 each.
Buy cheap cuts of meat
If you're not willing to jettison animal products, try cheap cuts of meat. These include
beef: mince, chuck, blade, brisket
chicken: thigh
pork: belly, shoulder, gigot, chop
lamb/mutton: shoulder, neck, gigot chop
Ask your butcher to remove visible fat and to prepare the cut for you, by dicing or boning it. You might not want to eat these cheap cuts plain, but with their high-fat content, they're great in slow-cooked meals, like stews, curries, or casseroles.
Eat and drink smart in restaurants
One of the best ways to reduce your food outlay is to cook more at home, forgoing ready meals, takeaways, and restaurants.
Dining out is particularly expensive, with the average restaurant charging a 400% markup on the ingredients it buys. In fact, the average cost of a three-course restaurant meal was £28.59 per head in 2017, and that excludes drinks and gratuity.
You don't have to avoid restaurants forever. We all still need to celebrate birthdays and anniversaries and check out that place down the street your friend was raving about. Here's how:
Ask for tap rather than bottled water. Also choose water over sodas and juices
Choose a lunch dish for dinner. They're cheaper and lighter. Often you'll be able to get a starter in a main-sized portion, which might cost a bit less than some other main dishes.
Find a BYOB restaurant and bring your own bottles of wine or beer. Or wait until after you're home to crack open a bottle.
Split dishes with friends and family. Restaurant meals are generous, and sharing will save you both money and calories.
Eat takeaway cheaply
Sometimes you're just dying for an Indian or Chinese takeaway, or for better pizza than a freezer section can provide. To reduce your food expenses, it helps to cut down the number of times a month—or week—you're loading Uber Eats. But here's how to limit costs when you do give in and summon the man on the motorbike with the polystyrene containers.
Avoid apps and takeaway sites: Deliveroo, Uber Eats, and Just Eat make it effortless to scroll through all the menus in your neighbourhood, and some takeaways offer special promotional discounts to stand out from the crowd. But these apps also levy a surcharge: with Just Eat it's 50p, while the 'delivery fee' on Deliveroo is £2.50. Cut out the middleman and contact the takeaway directly (warning: you might have to make an actual phone call to do so) and you may find they give you a discount.
Collect rather than deliver: Sure, it's convenient that your Indian just appears at your front door while you're lounging in your pyjamas. But if you can bother to get dressed, you'll be able to save a few pounds by running down to the shop yourself.
Don't get a drink: A survey found that the price of 300ml can of Coca Cola from a takeaway averages £1.73 but can range anywhere from 80p to £2.80. Buy a 10-pack from the supermarket and you'll pay just 45p a can.