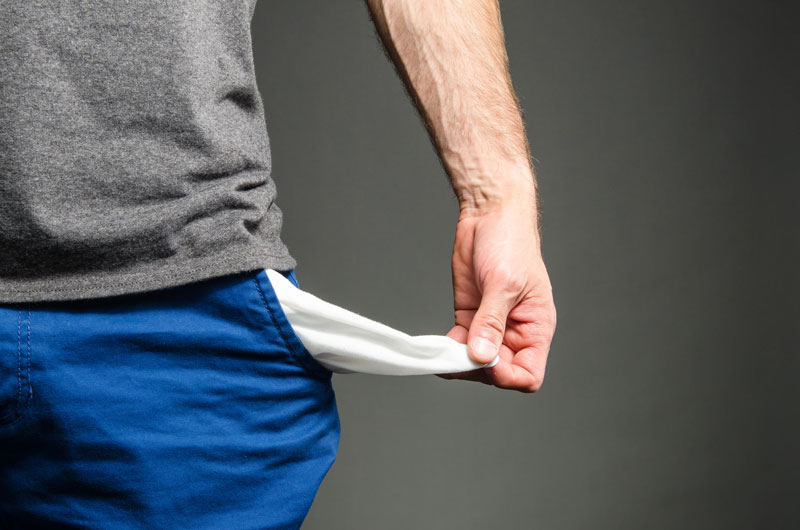 HALF of Young Brits Have Missed a Meal because they're Hard Up
Almost half of young people in the UK have skipped meals because money is tight, according to a survey conducted for us by Atomik Research.
48% of 25-34-year olds in the country admitted to missing a meal in order to save money, or because they couldn't afford it. Nearly two thirds (64%) said they have either given up or cut down on things they enjoy because of tight financial situations.
However, the survey revealed that it is not only the younger generations that are struggling financially. Almost a quarter (24%) of all respondents said they were financially better off two years ago than they are now.
"It's shocking to see that the younger generations are skipping mealtimes just to make ends meet," said Jason Smith, savings guru at MoneyExpert.com. "This, coupled with a quarter of the nation being worse off financially, shows it really is time to delve into your finances and see where you can start saving money."
MoneyExpert's Top 5 Common-Sense Budgeting Tips
Putting savings away each month isn't always possible, but as anyone who's had to get by on not a lot of cash knows, there are ways to stretch the pennies. Here are a few of our top, common-sense tips, to help you monthly budget go just that little bit further:
Make a list, and stick to it! Write a weekly list of the essentials you need, such as your food and travel costs, and try and stick to it. Make sure to factor in your energy bills and broadband and mobile contracts at the end of the month.
Shop at the same place each week. By doing your weekly shopping at the same supermarket, you can save money in the long run. Not only will you get familiar with the place and know where to find the cheap stuff, many supermarkets will offer you loyalty reward cards that you can use regularly to claim discounted goods.
Buy in bulk. When doing your food shopping, try and buy all your food for the week in one go, and even consider cooking all your meals for the week at once. This can save you money as well as time and can even save you petrol and parking money if your supermarket is a drive away.
Plan treat days. Saving money doesn't have to mean putting on a hair-shirt. Set yourself a regular day each week or month when you'll go out for dinner Where possible, try and choose a restaurant that allows you to bring your own drinks as corkage is always cheaper than a large bar bill.
Pay for travel in advance. Don't keep topping up your Oyster card every day or paying for each train journey individually. Buy a weekly, monthly or yearly travelcard to make massive savings on your commute in the long run.
We collected responses from 2,002 Brits of all ages during April this year. Respondents were asked questions about what they have been forced to miss out on due to tight budgets and how much they save over a year.
In order to save money, a larger number of Brits are giving up on paying for treats for themselves. 40% of respondents said they don't eat out anymore in order to save pennies, while 35% have given up on holidays. 34% of those said they are shunning shopping for new clothes, and 24% admitted to walking to work or their place of study instead of driving or taking public transport. A further 15% said they are not paying for any TV subscriptions because of tight finances.
However, while a large number of young people have admitted to cutting out meals or other pleasures they enjoy, the research suggests that their methods are helping them to save more money each year than other age groups. While 60% of 18-24-year olds are putting money aside each month, just 52% of those aged 45-54 are saving cash.
In fact, people aged 25-34 are saving more on average each year than any other age group, saving £2,400 on average. Here's the full breakdown:
| | |
| --- | --- |
| AGE GROUP | AVERAGE MONEY SAVED |
| 18 – 24 | £1,706 |
| 25-34 | £2,400 |
| 35 – 44 | £1,340 |
| 45 -54 | £480 |
| 55 – 64 | £481 |
| 65+ | £397 |
It's not just age groups where a divide is evident, however. The data also suggests that women are much worse off financially than men. While 40% of men said they are in a better financial position than two years ago, just 28% of women said the same. And while the average British male saves £1,144 each year, the average woman in this country saves only £647.