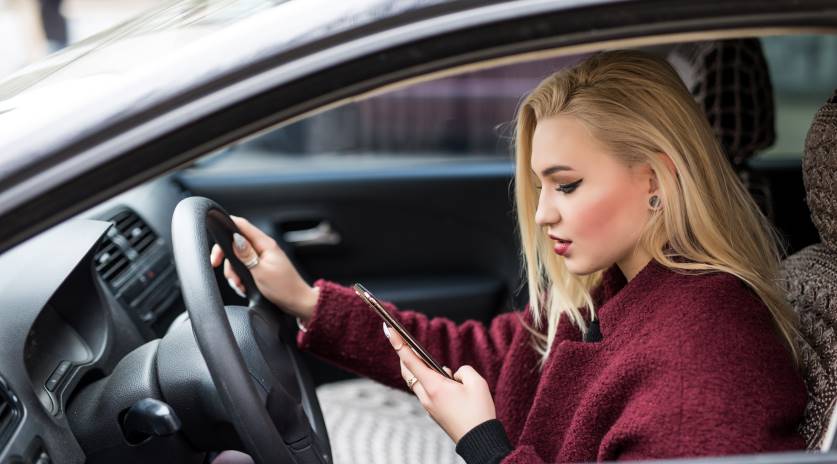 Drivers Using Mobile Phones at the Wheel Pay £2m in Fines Each Year
UK drivers caught using their mobile phones behind the wheel pay more than £2 million in fines each year, according to research.
Recent figures from car insurance provider Direct Line has revealed that around 13,000 people are convicted for using a mobile phone whilst driving each year in the UK. The resulting fines from those convicted amass to over £2 million a year.
However, around 11 million, or over a quarter of British drivers, have admitted to using their devices behind the wheel, meaning that 99.9% of such offences go unpunished. Currently, motorists caught using their phone behind the wheel can be fined £200 plus six points on their licence.
According to Direct Line, the data shows that an average of 1.6 drivers per hour are prosecuted for using their phone behind the wheel. But the number of people who admitted to using their phone while driving suggests a motorist uses a mobile device on British roads once every three seconds. The survey involved 2,000 British drivers.
"Driving using a mobile phone should be as socially unacceptable as drink driving, as it is both dangerous and illegal," said Steve Barrett, head of motor insurance at Direct Line. "It only takes a second with eyes off the road, or being distracted by a mobile phone, for a life altering accident to happen or for a driver to find themselves facing prosecution and a criminal record.
"With new technology available to the police that uses sensors to detect if a driver is using their phone, people are at greater risk of prosecution for these offences than ever before. It is worrying that the majority of law-abiding drivers are being put at risk by those who allow themselves to be distracted behind the wheel."
Rod Dennis, a spokesperson for the RAC, said: "While some drivers might have changed their behaviour when the penalties were toughened in 2017, all the indications are that many more continue to put lives at risk on a daily basis. Sadly, the numbers of people convicted for using a mobile phone illegally represents just the tip of an enormous iceberg.
"The government has pledged to review the current offence governing phone use by drivers, which in time could see many more people fall foul of the law. Attention needs to turn to enforcement of the law so there's a much better chance that anyone using a phone illegally gets caught.
"We believe clever camera-based technology already in use in the Netherlands and Australia, which have been brought to the government's attention, could play a really valuable role here."