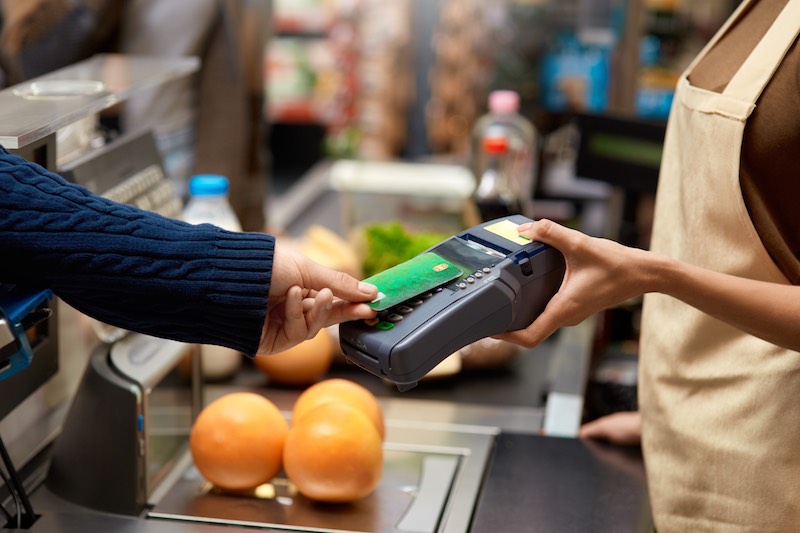 Contactless Payments Up 44% Under Lockdown
Tap-and-pay transactions have increased 44% since the coronavirus lockdown began on 23 March, as customers shunned cash and chip and pin machines.
Customer data from Nationwide Building Society reveals that the week of 25 May its customers made 10.31 million contactless transactions with debit and credit cards, for a total spend of £128.13 million, up from 7.15 million (spending £77.27 million) the first week of lockdown. The limit for contactless payments increased from £30 to £45 on 1 April, although not all shops implemented the change immediately.
In total, Nationwide members made 78.5 million contactless transactions between 23 March and 31 May, spending nearly £957 million. Many turned to contactless to avoid cash payments. 62% of polled customers said they were handling notes and coins less often during the lockdown.
The survey also found that more than a quarter (27%) have gone two months or more without using cash to pay for anything. Another third can't remember the last time they used cash.
Even customers who prefer cash found themselves out of luck. Some shops stopped accepting notes and cash-heavy businesses like pubs and cafes closed. The restrictions and worries mean that the average Britons now goes 44 days without handling cash.
For some, the behaviour could stick. According to Nationwide's survey, half of respondents say they will use cash less frequently in the future. A third (35%) of this group continue to be worried about the transmission of COVID-19 through cash, while 61% have simply become accustomed to using other payment methods.
Lockdown measures have also propelled customers to adopt other remote forms of banking and payment. A third of Brits have tried mobile and online banking for the first time during lockdown, while another quarter say they've become more comfortable with making mobile payments.
Mark Nalder, Nationwide's head of payments, says: "As lockdown restrictions continue to ease, it is evident the pandemic could have a lasting impact on how people pay for things. Far from heralding the death of cash, a shift towards mobile payments and online and mobile banking will help people keep track of their spending and better manage their money."
Nationwide's research follows a recent report from UK Finance which revealed that last year 7.4 million Brits were leading "an almost cashless life" and suggested that the pandemic had simply accelerated an ongoing transition away from cash.
But the data will be concerning for campaigners worried about the disappearance of cash from UK society, and the effect it will have on the two million people, disproportionately older and vulnerable, who are reliant on it.
Gareth Shaw, head of money at Which?, said: "While it's encouraging that more people are able to turn to digital payment methods during the coronavirus crisis, banks and businesses must not neglect those who have no choice but to rely on cash to pay for essential products and services, particularly as many are vulnerable consumers.
But Nationwide's Nadler said that reports of cash's death have been greatly exaggerated.
"Although we don't expect cash to return to pre Covid-19 levels, it is highly likely cash usage will increase post-lockdown as the high street begins to reopen, even if that means the use of card payments—via contactless, phone or another device—rise in tandem," he added.