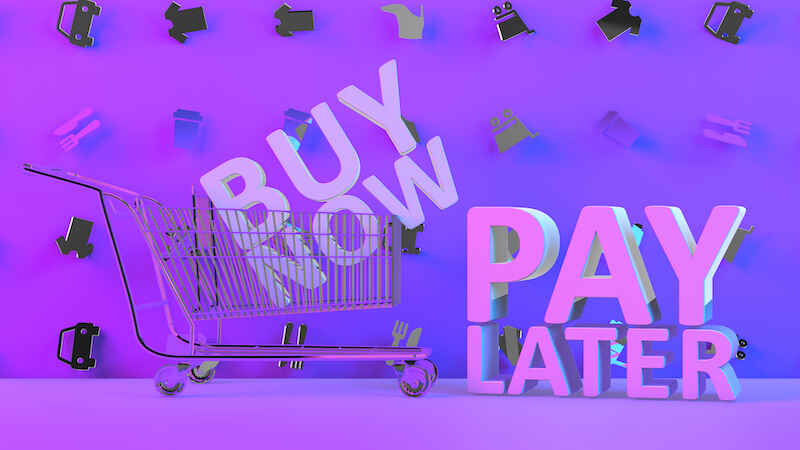 Another BNPL Provider Predicts the End of the Credit Card
Buy now, pay later (BNPL) provider Butter has launched a physical card that allows customers to spread the cost of in-person purchases, not just online transactions, and which it claims is sounding the death knell for the credit card.
Timothy Davis, co-founder and CEO of Butter, said: "We wanted to create a physical product that transcended the current BNPL boundary between online and physical transactions, providing an additional option for consumers that allows them to buy on credit, without having to use a credit card. So, we launched the UK's first buy now pay later card."
Butter's new card, paired with an app, allows customers to split the cost of purchases made anywhere in the world across up to 10 instalments. It advertises an APR of 0% but be warned: this doesn't apply to every transaction.
The small print on Butter's website warns that "While we make available many 0% APR offers, some purchases carry a transaction fee and an APR; be mindful of this when shopping."
This transaction fee is between 0% and 12.9%, pushing Butter's typical APR to 33.7%.
For example, Butter says a purchase of £100 spread across nine months would attract a £12.90 transaction fee. That means the total amount payable is £112.90, spread across 10 monthly payments of £11.29. That takes the representative APR to 33.7%.
This means that although the average interest rate on credit cards is at its highest level since December 1998, at 21.49%, according to Bank of England figures, Butter's rate is still higher.
Butter claims most of its customers use the payment plan at 0% interest and it's only those who spread the cost over the full 10 payments allowed who see higher charges.
Butter also charges £12 for late or missed payments—which can rack up quickly if you fall behind. But the company says it prefers to resolve late payments personally with the customer and claims to have never levied a late fee.
Butter is a relatively new entry in checkout BNPL services, launching its product in July 2020. It began life in 2017 as Pay Monthly Travel, allowing travellers to split the cost of holidays and its holiday services remain its bread and butter. But it's now taking advantage of the boom in the UK's BNPL market, driven by rivals Klarna, Clearpay, and LayBuy. It currently has around 100,000 customers.
The BBC reported that 17 million Britons have used BNPL services to shop online. Although it's associated with younger shoppers, the services are growing in popularity the quickest among Britons in their 40s and 50s. A recent survey from Citizens Advice found that nearly one in 10 people (9%) plan to use BNPL services for part of their Christmas shopping.
Although BNPL services are advertised as an easy, consequence-free way of spreading purchases, they can lead to spiralling debt. Credit Karma estimates that UK shoppers have racked up more than £4 billion in outstanding debt through BNPL services this year alone. The average outstanding balance is £538.
Despite this, the sector is still largely unregulated. In October, the Treasury published proposals that would bring BNPL services under the oversight of the Financial Conduct Authority (FCA) and subject providers to similar rules that govern credit card and loan providers. These include the requirement to conduct creditworthiness assessments of customers before offering them financing and to treat customers in financial difficulty with "forbearance and due consideration." BNPL users will also gain the option to take complaints about the products to the independent Financial Ombudsman Service.
Additionally, the proposals would extend the Section 75 protections that apply to credit card transactions to BNPL purchases. This means that for transactions of between £100 and £30,000, the payment provider will be jointly liable if something goes awry. The government is consulting on the proposals until January, with any rules expected to come into force sometime next year.
While BNPL services have exploded, credit cards are marginally declining in popularity: while 65% of Brits have credit cards, the number being issued has fallen 3% in a year and the value of consumer goods purchased on plastic has tumbled, Butter claims. Data from City trade association UK Finance found that credit card spending was flat between August 2019 and August 2021, at £16.9 billion.
Butter's Davis says that credit cards are "costly" and "confusing."
"We're never really sure what we owe, when we owe it, and how much we'll pay for the pleasure. Staying completely on top of your budget is the best way to avoid falling into any financial difficulty as failing to do so can often see a host of additional fees start to ramp up in addition to the interest charged," he said.
This isn't the first time a BNPL provider has predicted the demise of the credit card. In August Klarna founder Sebastian Siemiatkowski dismissed the credit card model as "unsustainable" and a driver of economic inequalities.
However, in addition to the consumer protections that apply currently apply to credit cards and not BNPL products, including Section 75 rules, there are other benefits of credit cards that BNPL don't replicate, experts say. Purchases on credit cards don't attract any interest for the first 56 days and customers who pay off their bill in full each month don't face any interest charges.
Meanwhile, Butter isn't the only BNPL provider to extend the service to in-person transactions. Digital bank Monzo's Flex BNPL service, launched in September, has the same capability with its "hot coral" cards.