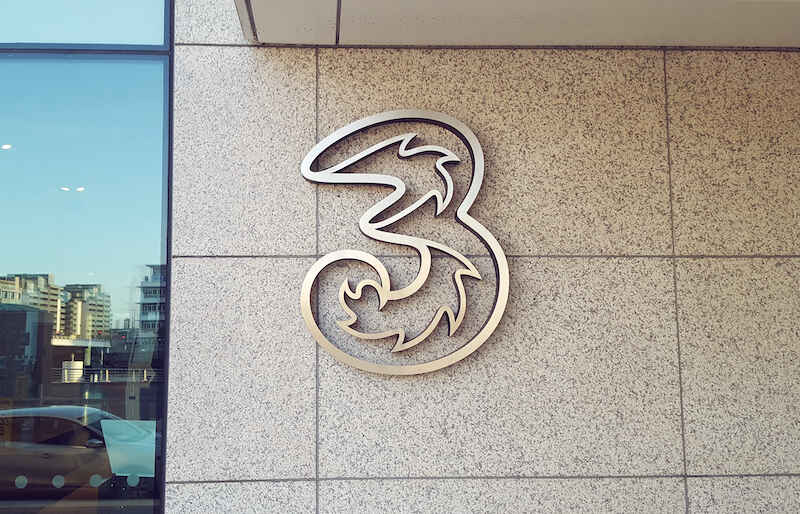 Three to Hike PAYG Prices by 250%
Thousands of customers of Three's pay-as-you-go service face huge price hikes from next month, just the latest shakeup that's making traditional PAYG mobile use less affordable and appealing.
The new pricing structure, to take effect on 12 July, is the second price hike customers on Three's PAYG service have faced in 18 months. Three also revised its PAYG prices in February 2021.
The changes apply to customers using the traditional PAYG service, topping up their devices with money and paying per phone call, text message, and megabytes (MB) of data used. It won't affect customers who buy pre-paid bundles of minutes, text messages, and data.
From 12 July, users of Three's traditional PAYG plan will pay 35p/minute for a domestic phone call, up from 10p/minute previously - a 250% increase.
Before the February 2021 shakeup, calls cost just 3p/minute. That means in just over a year, Three's PAYG customers have seen the cost of phone calls increase by a staggering 1067%.
Also from July, PAYG customers will pay 15p to send a text message, up from 10p. Before February 2021, texts cost just 2p.
Meanwhile, data costs will double, from 5p/MB to 10p/MB. Data costs were previously just 1p/MB.
Three said in a statement: "Like many mobile providers, we have to review and revise our pricing. Our new rates still remain competitive across the market."
The network also pointed to its £2 billion investment in strengthening its 4G and 5G networks. It says its 5G network is now available to 54% of the UK's population.
Three declined to specify how many of its 1.6 million PAYG customers are on the traditional pricing plan. It has urged customers to buy data bundles, which start at £10/month and include unlimited airtime and texts and cheaper data. However, the allowance can only be used within a month, requiring customers to top up frequently.
Some customers have stuck with traditional PAYG plans, especially those who use their phones infrequently or are on tight budgets. Recent research from Ofgem revealed that 14% of Brits use pre-paid mobile services, with the remainder on a pay-monthly contract, either a SIM-only deal or for their handset too.
However, among some cohorts, PAYG mobile use is more prevalent. While only about one in 10 of those below retirement age use pre-pay phones, that rises to 23% of those aged 65 to 74. Among over-75s, a third (34%) use PAYG mobile devices.
Lower-income households are also more likely to use pre-pay phones. Just 8% of those in the AB socio-economic group use them, while for DEs that figure is 22%.
Across the market, those customers are finding PAYG more expensive than ever, as mobile providers try to push them toward bundles or contracts. In January 2021, Vodafone overhauled its PAYG service so users pay a £1 charge for each day they send a single text, make a call or use any data, meaning huge cost increases for those who use their mobiles sparingly.
Meanwhile, O2 closed its traditional PAYG service to new customers in November 2019. Stablemate Virgin Mobile introduced a similar pricing scheme to Vodafone, potentially leaving PAYG customers on the hook for £6 a day for sending a single text message, using just 1MB of data and making one short call.
Still interested in a traditional PAYG service and don't want to commit to a bundle or contract? 1p Mobile does what it says on the tin and charges just 1p for every call minute, text, and MB of data. However, you're required to top up at a minimum of £10 every four months.
ASDA Mobile charges 4p for every voice minute, text, and MB of data. Giffgaff charges 25p/minute, 10p per text and 10p per MB data - now a better deal than from Three.
Sources