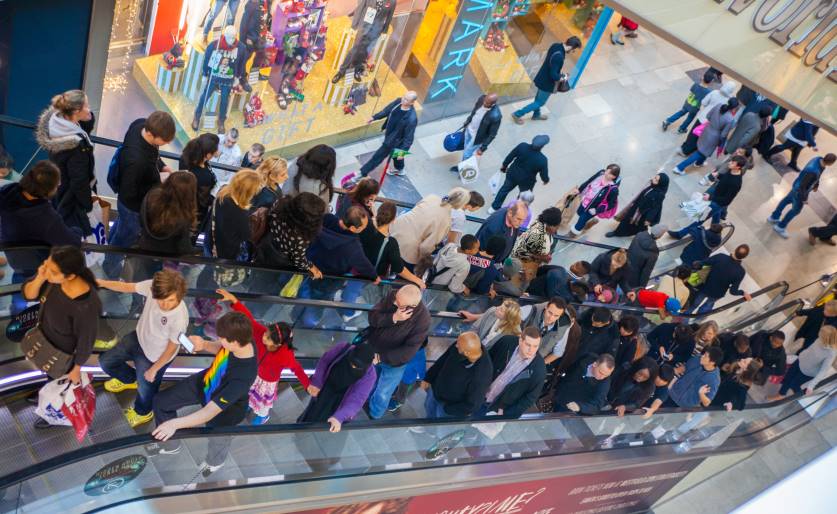 Shopping Centre Footfall on the Rise for First Time in Three Years
The number of British consumers going to shopping centres increased in January for the first time in three years, according to Springboard.
The latest data from the market research firm revealed that overall retail footfall in the UK declined by 0.5% in the five weeks to January 25 compared to last year, continuing the trend of consumers staying away from the high street. This latest decline is slightly less than the 0.7% annual fall recorded this time last year, and a significant improvement on the 2.5% annual decline recorded in December 2019 after a challenging Christmas period.
However, somewhat surprisingly, footfall in both retail parks and shopping centres increased in January compared to last year, at 1.4% and 0.2% respectively. This marks the first annual increase in shopper footfall for shopping centres since March 2017. High street footfall was down 1.8% in January compared to last year.
Springboard said that investment in shopping centres and retail parks, added to the fact that they are centrally managed and therefore easier to control, is the main reason behind the recent resurgence.
"January was the first month since March 2017, and only the third month in four years, that footfall in shopping centres rose; and whilst a rise of +0.2% is only a modest increase it brings some much-needed hope for this destination type that has consistently lost shoppers over two years," said Diane Wehrle, marketing and insights director at Springboard.
"It seems that this is an early sign that the regeneration schemes long planned by owners to broaden the offer of malls to incorporate a greater experiential element, particularly in the larger malls, are working and they now better reflect consumer demands.
"This result reinforces the benefit of a single ownership structure and also demonstrates the realisation that the old format of 100% retail is no longer relevant.
"Whilst the gestation period for shipping centre investment may be a long one, once the chess pieces are finally in place a single owner is often more readily able to deliver meaningful change than a high street, which can be weighed down by a multiplicity of owners all of whom have varying objectives and aspirations for their particular asset."