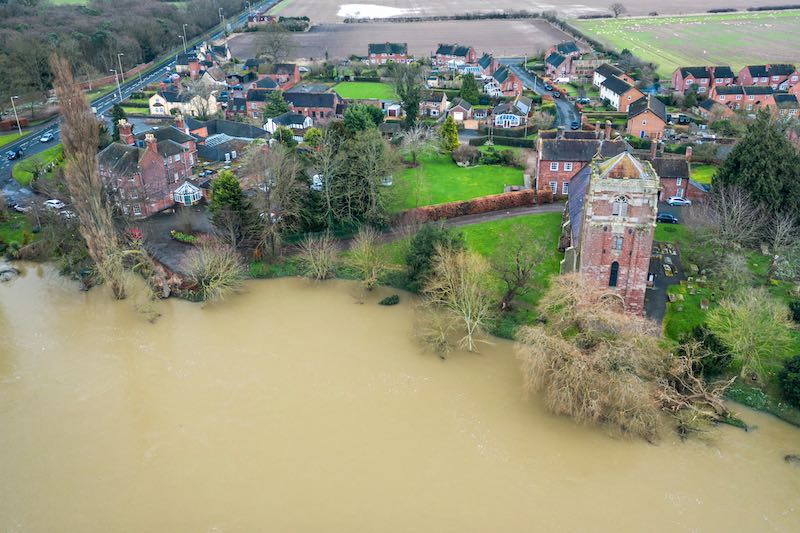 RBS and NatWest Allow Flood Victims to Delay Mortgage Repayments
RBS and NatWest customers whose homes were flooded by Storms Ciara and Dennis and continuing wet weather will be given a three-month holiday on their mortgage and loan repayments, Royal Bank of Scotland has announced.
The breathing space will allow customers to "concentrate on getting their homes and businesses back to normal," the banking group said.
Additionally, affected customers with fixed term savings accounts with the banks will be able to close them without penalty to access cash. They will also be able to apply for a temporary increase in their credit card limits or increased withdrawal limits of up to £500 a day. Any credit card cash advance fees they've incurred will be refunded.
The banking group will also offer business customers affected by the severe weather loan repayment holidays, extended overdrafts, interest rate reductions and temporary emergency loans without arrangement fees.
The bank has urged affected customers to contact them, either by phone or by coming into a branch.
Alison Rose, CEO NatWest Bank, said: "We are helping customers and business owners affected by the recent flooding by providing additional credit or access to finance where needed, so they can concentrate on getting their homes or businesses back to normal. 
Royal Bank of Scotland, which owns RBS, NatWest and Ulster Bank recently announced it will rebrand itself the NatWest Group later this year. RBS was recently named the worst bank for customer service for the fourth time in a row, based on a poll of banking customers required by the Competitions and Markets Authority (CMA). RBS insisted it is investing in improving customer service, especially in branches.
Storm Dennis deluged some areas in a month's worth of rain in just 24 hours, hitting regions already damaged and saturated by Storm Ciara the weekend before and flooding 670 homes.
Continuing rainfall means additional flooding is likely in 120 areas, especially in the West and West Midlands, along the Wye, Severn and lower Avon rivers. The Environment Agency said there were 106 flood warnings in place for England on Thursday morning, including six severe warnings, for communities along the Welsh border.
The government has announced that those severely impacted by the storms will be entitled to benefits, including a financial hardship payment of up to £500 under the Flood Recovery Framework and a three-month holiday on council tax bills.
The government is investing £2.6 billion in flood defences "to make homes more resilient and better protected if flooding happens again," George Eustice, the environment secretary said.
However, Labour Leader Jeremy Corbyn has criticised the government and especially Boris Johnson's response to the flooding.
"As the climate crisis deepens, extreme weather conditions will become more frequent and severe. The government's response has been wholly inadequate and fails to grasp the scale of this crisis," he said.