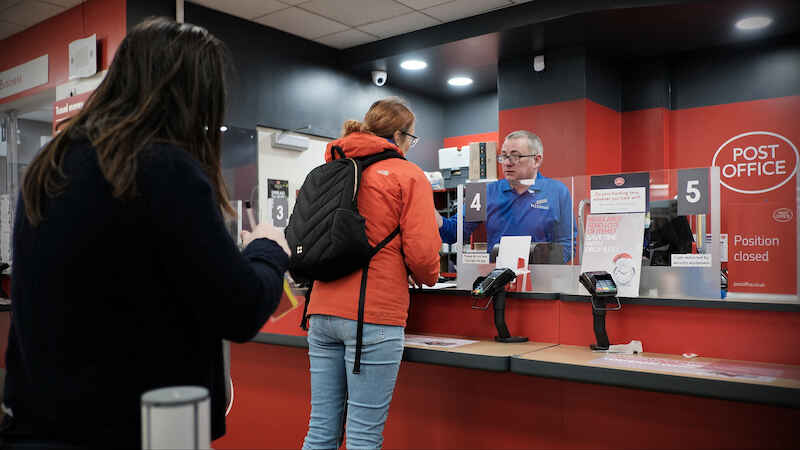 Post Office Inks Deal to Continue Banking Services for 3 Years
Customers of most of the UK's largest banks and building societies will keep their ability to complete basic personal and business banking tasks at Post Office counters until the end of 2025, providing crucial access to cash on high streets vacated by bank branches.
The Post Office announced on Monday that it had secured a new deal with 30 major banks after months of negotiation. Under Banking Framework 3, which will run for three years from the beginning of 2023, customers of those banks will be able to deposit and withdraw cash, deposit cheques, and make balance queries at the Post Office's 11,500 counters across the UK.
As the UK's network of bank branches has contracted, with half of bank outlets shutting or scheduled to shut since 2015, Post Office locations have become important hubs for banking services, especially among the millions of Brits reliant on cash and cash-only small businesses. Recently, the Post Office has been handling around £3 billion in cash deposits and withdrawals from individuals and small businesses each month.
While some small towns have lost all bank branches, 98% of the population live within three miles of a Post Office. Post Office locations also often have longer opening hours than bank branches, with 4,000 of its locations are open at the weekends.
Nick Read, Post Office chief executive, said: "This agreement provides a continued lifeline to the millions of people and small businesses that rely on cash nationwide. It highlights the unique and vital role that the country's Post Offices play in local communities and economies."
"While banks are cutting their branch networks, Post Offices are seeing more and more deposits and withdrawals with Postmasters keeping their branches open long hours and helping to draw people to our high streets."
The government welcomed the new agreement. John Glen, economic secretary to the Treasury, said: "The Post Office, with its presence in local communities across the UK, plays an important role in the levelling-up agenda and this agreement will continue to allow 95% of business and 99% of personal banking customers to carry out their everyday banking, including withdrawing and depositing cash."
However, some bank executives on Friday predicted that Banking Framework 3 would be the final deal struck with the Post Office, as the disappearance of cash will eliminate the need for physical banking locations.
"Ongoing demand for cash is debatable and continues to fall rapidly," an unnamed banking boss told Sky News. "Most people think cash will have largely disappeared in three years."
Meanwhile, digital bank Monzo declined to sign onto the framework, making it the only hold-out among the country's largest banks.
"Monzo is a branchless bank, with customers able to carry out the majority of their banking needs through the Monzo app. Customers can also deposit cash at Paypoint, which is available in over 28,000 convenience stores, corner shops and retailers across the UK," a spokesperson for the startup said.
The signatories to the agreement are: Adam & Co, Allied Irish Bank, AIB, Bank of Ireland, Bank of Scotland, Barclays, CAF Bank, Cahoot, Cashplus Bank, Clydesdale Bank, Co-op, Coutts, Danske, First Direct, Halifax, Handelsbanken, HSBC, Lloyds, Metro, Nationwide, Natwest, Smile, RBS, Santander, Starling Bank, Thinkmoney, TSB, Ulster, Virgin Money, Yorkshire Bank.
It's unknown how much money the Post Office will net from the agreement, the third such deal adopted since 2017. But last year The Times reported that the Post Office was seeking £800 million from the banks, up from the £600 million it received for the deal covering 2020-2022.
Sources
https://corporate.postoffice.co.uk/our-media-centre#/pressreleases/post-office-announces-continued-lifeline-for-businesses-and-communities-that-rely-on-cash-with-new-banking-agreement-3158562