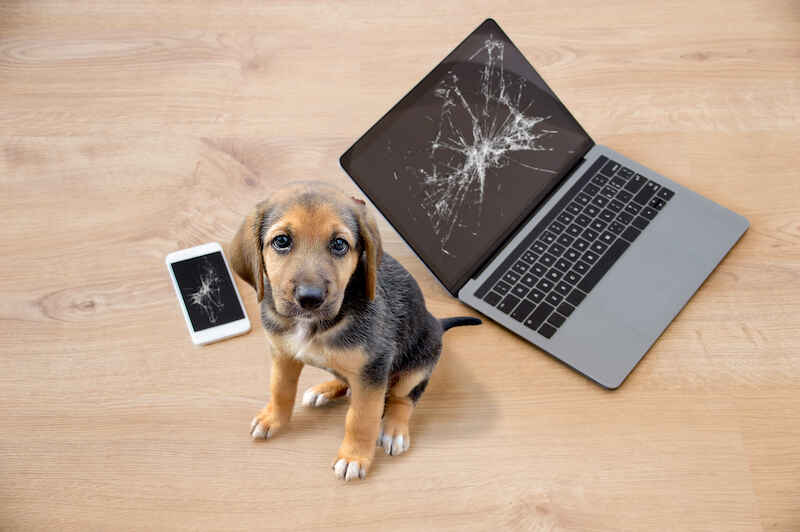 Naughty Dogs Cause More than 800 Home Insurance Claims Each Year
Leading home insurer Aviva has revealed that it receives around 800 claims each year for accidental damage caused by pet dogs, with errant pooches flooding kitchens and spilling paint.
Many home insurance policies include exclusions for any chewing, scratching, tearing, or fouling by domestic animals. But "there are plenty of dog-related incidents where home insurance - and particularly accidental damage cover - can come to the rescue," said Kelly Whittington, UK Property Claims Director for Aviva.
To mark the return of famous dog show Crufts, Aviva has opened up its claims records to reveal a rogues' gallery of naughty dogs and the trail of water-logged electronics and stained carpets they've left in their wake.
Dog-related claims lead to payouts of £1,100 on average. But one unfortunate family found their entire kitchen flooded by a mischievous Labradane (a Labrador and Great Dane mix) named Whiskey.
Whiskey got into hot water when he managed to turn on the tap in his owners' kitchen while they were briefly out - a misdeed caught on their home security camera. The mishap caused £4,000 of damage, thankfully covered by the family's home insurance policy.
Another hoodlum hound tripped up his owner when he was carrying a drink - which landed on and fried the man's expensive electric keyboard.
Meanwhile, claims records reveal that DIY projects and dogs are a dangerous combination. One man's plan to paint his landing went awry when his dog knocked over a stepladder which then tipped a two-litre pot of paint down the stairs.
Another ruffian became overexcited by a knock on the door and bumped a pot of paint off the windowsill, ruining an Aviva customer's sofa.
Carpets are particularly vulnerable to dogs' hijinks. One customer was forced to claim on their home insurance policy when their puppy got its lead tangled around an ironing board and tipped the board over, pulling the hot iron plate-down onto the carpet. Another naughty dog knocked over a bucket of bleach and water, ruining a hall carpet.
Other furry friends destroyed laptops, television sets, and even an antique barometer. And insurers expect claims for dog-related damage to climb following the pandemic craze for pets.
According to the Pet Food Manufacturers' Association, more than 2.1 million Brits brought home a new pet during the pandemic, taking the number of dogs dozing on our (paint-splattered) sofas to 12.5 million.
"Dogs are beloved members of millions of UK homes. They get involved in all aspects of family life - and our possessions are sometimes on the receiving end," said Aviva's Whittington.
Accidental damage cover is typically an add-on to a home contents insurance policy, useful not only for damage caused by pets but also other unanticipated breakages and spills at home.
Sources