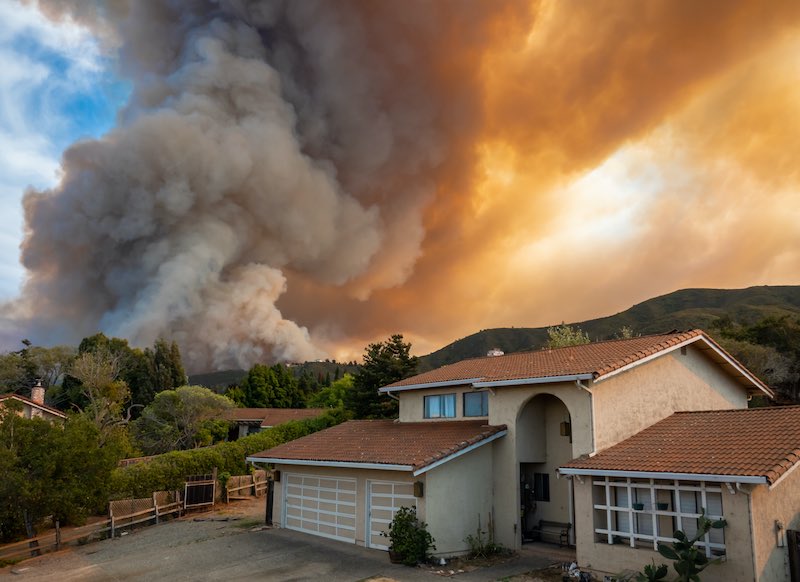 Natural Disasters Cost Insurance Industry Big in 2020
The coronavirus pandemic and associated lockdowns have clobbered sectors of the insurance industry this year, but other disasters—often overlooked in the panic and political wrangling over the virus—have also been very costly.
Globally, insurers have paid out US$83 billion on claims arising from natural disasters and man-made catastrophes in 2020, according to preliminary estimates from the Swiss Re Institute. This makes 2020 the fifth costliest years for disasters since 1970.
The inferno on the US's West Coast and Australia's 2019 wildfires, which continued to smoulder into January, both wracked up huge losses for the industry.
Convective storms—thunderstorms, along with tornados flooding and hail—also reached record numbers globally.
Hailstorms in southeastern Australia in January caused insured losses of more than US$1 billion, while Calgary was battered by Canada's costliest-ever hailstorm in June, leading to another US$1 billion in claims.
Meanwhile, severe flooding in several provinces along the Yangtze River in China caused $2 billion in insured losses. Winter storms in Northern Europe added another $2 billion to insurers' tabs. The ABI previously estimated that Storms Ciara and Dennis, which battered the UK in February, caused £360 million (US$488 million) in damage here alone, mostly covered by home and auto insurers, and also pummelled other countries in Europe.
A very active North Atlantic hurricane season, with destructive storms Laura, Eta and Sally, accounted for $20 billion in claims, 26% of all insured losses from natural disasters. There were more than 30 named storms during the season, including five that made landfall in the state of Louisiana alone. However, most US landfalls missed heavily populated areas, so the losses paled in comparison to those recorded during the brutal hurricane seasons of 2017 and 2005.
In May, India weathered its most destructive ever cyclone, causing economic losses of $13 billion. However, insurance coverage in the region is low, so insurers covered just a fraction of this.
Globally, insurers covered 45% of economic losses this year, above the 10-year average of 37%.
2021 will provide little respite for humanity or its insurers. Global heating caused or exacerbated many of these catastrophes, and the industry is bracing for similar or worse losses in the coming years.
"Large-scale climate conditions in the North Atlantic suggest elevated hurricane activity for 2021 and likely beyond," Martin Bertoff, head of catastrophe perils at Swiss Re, said. "This increases the probability of a catastrophic landfall. Combined with the loss impact of secondary perils accelerated by climate change, insured catastrophe losses will only rise in the future."
"As with COVID-19, climate change will be a huge test of global resilience," Jerome Jean Haegeli, Swiss Re Group chief economist, added. "Neither pandemics nor climate change are 'black swan' events. But while COVID-19 has an expiry date, climate change does not, and failure to 'green' the global economic recovery now will increase costs for society in future. This year's natural disasters impacted regions with more insurance cover in place, providing vital support to the people and communities affected and enhancing their financial resilience."
Swiss Re previously estimated that the coronavirus pandemic has cost the property and casualty insurance industry between US$50 and $80 billion this year, in payouts on policies ranging from travel to event cancellation. Policyholders can expect to see higher premiums at renewal to offset these payouts.
However, claims on health and life insurance policies were relatively low, likely due to the suspension of medical care and a decline in accidental deaths, particularly of insured young people, during lockdowns.