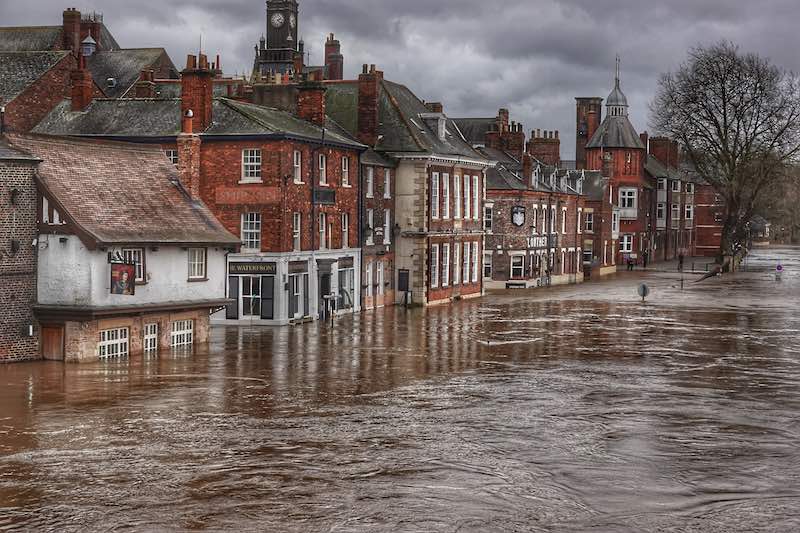 Home and Auto Insurers Pay Out £360 Million for Damage from February Storms
The total bill for the damage to property, vehicles and possessions caused by storms and flooding last month will top £360 million, according to the insurance industry.
Insurance firms expect to pay out £214 million to homeowners, motorists and businesses affected by the widespread flooding caused by Storms Dennis and Ciara, the Association of British Insurers (ABI) said. That includes £107 million paid out in 3,350 domestic property flood claims, with the average claim nearing £32,000 per household.
1,500 commercial property flood claims, coming in at an average of nearly £57,000 each, will cost a total of £85 million. 3,600 motor insurance claims, averaging £600 a piece, will total £21.7 million.
In addition, the industry expects £149 million will be claimed for damage caused by the storms' high winds, taking the total cost of the damage to £363 million.
For wind damage, there have been 61,000 domestic property claims, totalling £77 million; 9,000 commercial property claims, with a bill of £61 million; and 3,500 motor claims, at a cost of £11 million.
The ABI said insurers had already dispensed £7.7 million in emergency payments to homeowners and businesses in the immediate aftermath of the storms, including for temporary accommodation where homes were made uninhabitable.
Mark Shepherd, the ABI's head of general insurance policy, said: "Insurers' first priority when bad weather strikes is always to help customers recover from the traumatic experience as quickly as possible.
"With some properties still underwater, making emergency payments and arranging emergency alternative temporary accommodation or trading premises is very much a live issue.
"When the floodwaters recede, the hard work begins. Insurers and loss adjusters will continue working around the clock to ensure homes and businesses are fully dried out, so that repairs can start as soon as possible, and people can get their lives back together."
Several insurance companies have also opened their books and revealed how much the recent storms have cost them.
Aviva said they would be paying out £70 million to cover damage from the recent storms, after receiving 13,000 weather-related calls from customers. The insurance giant said it was "responding quickly by helping fix damaged properties and using the latest technology to settle claims."
Direct Line Group said the storms would cost it at least £35 million. Admiral estimated it would pay out £14 million for storm damage but said after receiving assistance from the government's Flood Re scheme, its costs would fall to between £4 and £5 million.
The Flood Re scheme reduces the cost of insurance for 350,000 owners of homes in flood risk areas by limiting the amount insurers are liable to pay out for flood claims. However, think tank Bright Blue last month warned that 70,000 homes in flood risk areas built after 1 January 2009 are excluded from the Flood Re scheme and may be uninsurable.