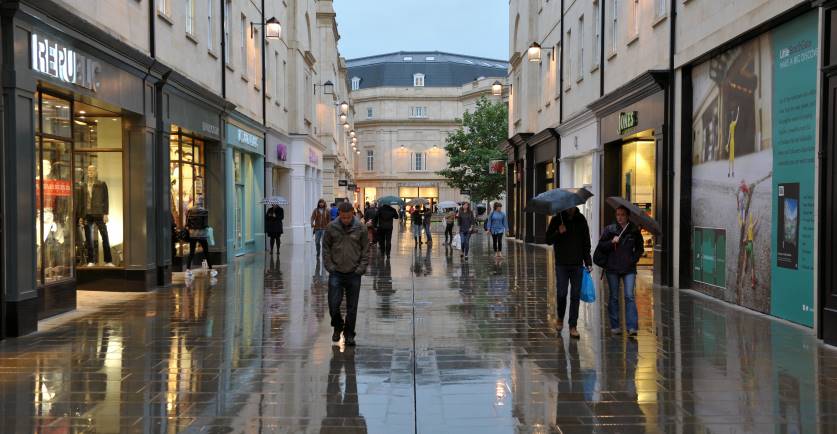 Poor Weather Hits High Street Footfall in February
The bad weather experienced across the UK last month caused a 7.8% fall in high street footfall in February, according to Springboard.
The latest figures from the consumer data firm revealed that 7.8% fewer shoppers visited high street stores in February compared to January. However, there was just a 1.1% fall in the number of shoppers visiting retail parks over the same period. Springboard blamed poor weather, especially from Storm Ciara and Storm Dennis, for deterring consumers away from the high street.
"If further proof of the fragility of high streets were needed, it was provided in February when the impact of the severe and ongoing rain led to a drop in footfall of -7.8%," said Diane Wehrle, marketing and insights director at Springboard.
"While an average of 17 days of rain across the UK over the month led to shoppers staying away from high streets, shopping centres and retail parks still appealed to many by virtue of either their covered environment or ease of access and proximity of parking.
"A disparity of 6.7% between the monthly result for high streets and retail parks clearly demonstrates the exposure to extreme conditions that high streets have to contend with."
Springboard stopped short of blaming coronavirus for the drop in retail footfall. The virus has been spreading rapidly around the world since it was discovered in China in December, with public fear causing global stocks to crash and many businesses facing an uncertain future. However, Ms Wehrle said the fact that shoppers are still going to retail parks is evidence that UK consumers are yet to be put off by the virus.
"The resilience of retail parks and shopping centres demonstrates that coronavirus did not have a noticeable impact on footfall in February – if Covid-19 had been a significant factor then it is likely that all three destination types would have been impacted more equally.
"However, the month ended before the warning of its increased severity in the UK was made and so moving forward it is likely that shopper activity will be stemmed as consumers become more wary about interacting in public spaces."
In further bad news for the high street, separate figures from the Centre for Retail Research found that more than 18,000 retail jobs have been lost in the first two months of 2020, following on from almost 60,000 job losses over the last quarter of 2019.
Meanwhile, 1,211 shops closed down during January and February. According to real estate firm Altus Group, the decline in the number of stores and jobs in the UK was due to an 'unfair' business rates review system.
"The phasing in of large property tax rises in a good thing," said Robert Hayton, head of UK business rates at Altus Group. "It acts as an important shock absorber and allows businesses time to adjust to higher liabilities. Paying for that by denying the correct reduction on properties in areas where values are falling burdens those least able to afford to pay.
"It is a simple mechanism for balancing the cost of the scheme, but it is also simply wrong and unfair. A small supplement on all bills would spread the burden equally. It would be an insurance premium against sudden liability increases."