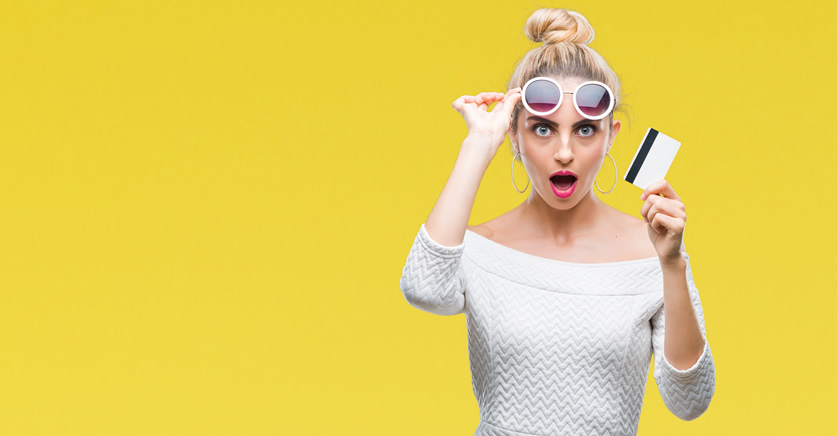 Credit Card Interest Rates at Their Highest Level in 13 Years
British consumers are paying the highest interest rates on their credit card balances in more than a decade, financial website Moneyfacts.co.uk has revealed.
The average annual percentage rate (APR) available on credit cards hit 24.7% in September, the highest figure since Moneyfacts became tracking the data in June 2006.
In comparison, last September average interest rates on credit cards stood at 23.4%.
Average interest rates on credit cards have risen, and free borrowing periods shrunk, as lenders have withdrawn the most favourable deals from the market. This is in response to increased scrutiny from the Financial Conduct Authority (FCA), which is trying to tamp down on spiralling household debt.
The average UK household now holds a record £15,400 in unsecured debt, on credit cards and with other loans, according to data from the Trade Union Congress (TUC).
Rachel Springall, finance expert at Moneyfacts, said: "Consumers who turn to credit cards for their everyday purchases will find that the cost to borrow is starting to rise, as the most lucrative low rate cards have worsened. In fact, over the past quarter, we said goodbye to the lowest rate purchase credit card on the market and have seen rates increase on these lucrative offers."
The lowest rate purchase card was Tesco Bank's Clubcard credit card, with an APR of 5.9%. Tesco Bank recently withdrew the card from the market.
Meanwhile, Bank of Scotland, Halifax and Lloyds Bank have all recently increased the purchase rate on their credit cards from 6.4% to 9.9%.
These rate hikes are prompting some consumers to shift their debts to interest-free alternatives or to clear their balances altogether.
According to data from UK Finance, the portion of credit card balances which bear interest have fallen to 53.4%, from 54.6% a year ago. This is as consumers shift their debts to cards with interest-free periods.
However, the amount of leeway they can gain with balance transfer cards has fallen as well. Last month Moneyfacts revealed that the average interest free-borrowing period on the top 12 best-buy balance transfer cards is just 23 months, down from 28 months last year.
The longest free borrowing periods on the market are now just 29 months - available from MBNA, Halifax and Virgin Money - compared to 36 months last year.
With interest rates rising, consumers are charging fewer items to credit cards and paying off debts where they can. The annual growth rate of outstanding balances has dropped to 3.6%, down from its peak of 8.3% at the start of 2018.
Springall encouraged customers to take every opportunity to pay more than their minimum monthly repayment, especially if they have an interest-bearing card.
"A borrower who makes a purchase of £3,000 on a typical credit card and repays just £100 per month will have their debt linger over for three years and it will cost them £970 in interest," she said.
"This alone then should reaffirm the importance to clear debts faster or take advantage of an interest-free deal to give customers more time to spread repayments."