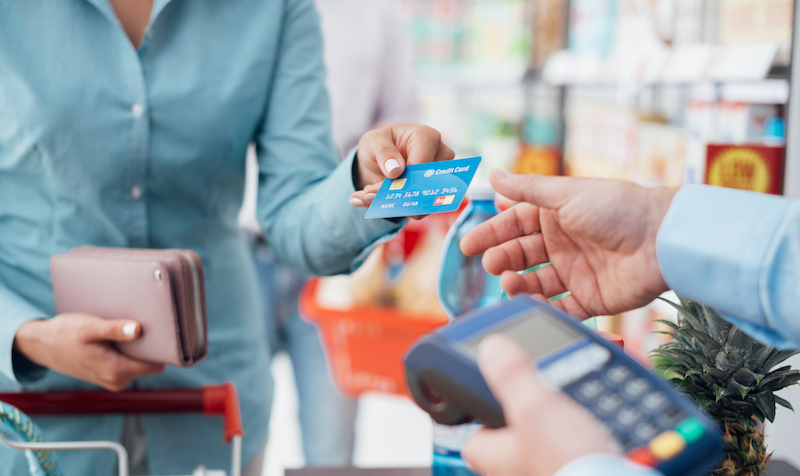 Credit Card Debt Falls for the First Time Since 2013
The UK's total credit card debt declined for the first time in nearly seven years, as consumers tamped down their borrowing and spending.
The Bank of England has recorded the first decline in cumulative credit card debt since July 2013, as borrowers repaid more than £100 million in November.
Consumers took out just £600 million in unsecured credit during the month, well below the £1.1 billion monthly average since July 2018. The annual growth rate of unsecured lending fell to 5.7%, from 6.1% in October and the lowest rate recorded in six years.
But although they're making net repayments, Britons still have £72.1 billion in debt on credit cards, part of a total of £225 billion in unsecured borrowing. That debt has been rising since 2012, when unsecured credit card debt reached a post financial crisis low of £55 billion.
The slowdown in borrowing coincides with a drop in consumer spending, which fell—by 0.6%—for the fourth month in a row in November.
Howard Archer, the chief economic adviser to the EY Item Club, said: "There had been signs in the latter months of the year that consumers had become more concerned by the combination of a struggling domestic economy as well as heightened domestic political and Brexit uncertainties."
Consumers may also be discouraged by the rising cost of borrowing, as banks have withdrawn their best card deals from the market.
Tesco scrapped its best buy Clubcard Credit Card with Low APR Mastercard, which at 5.9% APR was the cheapest card on the market. Bank of Scotland, Halifax and Lloyds Bank also increased their purchase rate, from 6.4% to 9.9% APR. With the disappearance of the most competitive cards, average interest rates reached a record high of 25.1% in November.
Meanwhile, nearly half of all 0% balance transfer cards have been withdrawn from the market in the last three years, leaving fewer options for consumers looking to consolidate their debt.
The decline in credit card debt may also reflect new rules for borrowing introduced by the Financial Conduct Authority (FCA) in March 2018. Under the new regulations, lenders must help the estimated three million borrowers with persistent debt accelerate their repayments and in some cases write off their interest and charges.
Over the next few months, lenders will also be required to restructure some borrowers' debts into affordable repayment plans over three or four years.
Sue Anderson, from the debt charity StepChange, said it was too early to know if those changes had let to the decline in debt recorded in November.
"We are looking to help those affected by these credit card changes to understand and manage their debt in an affordable way," she said.