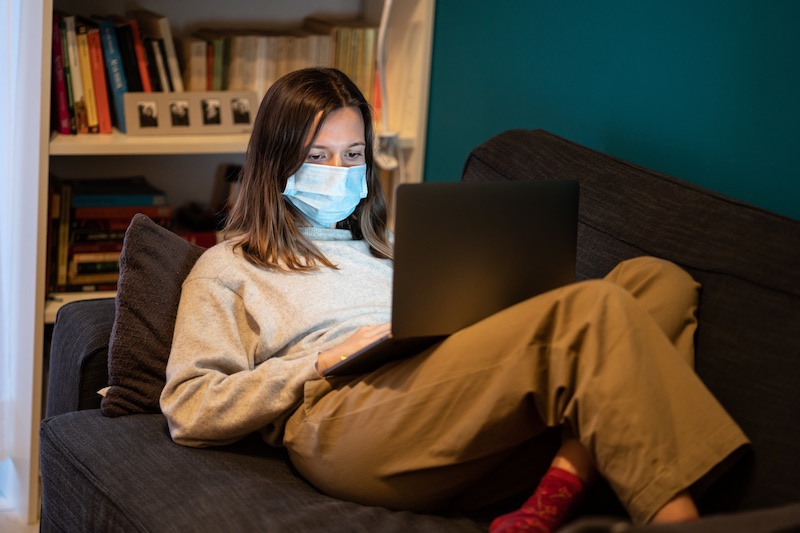 Broadband Performance Slips During Lockdown
Broadband networks have suffered a performance lag as the coronavirus lockdown drives users onto video streaming sites and teleworking platforms, but the impact hasn't been huge.
Internet analysis platform SamKnows found that the UK's largest ISPs have suffered a 2% to 3% deterioration in download speed and latency since the lockdown began. Those levels likely aren't noticeable to the average broadband user and indeed, we haven't seen social media grumbling about network performance, even as housebound users turn to data-intensive video calling and streaming sites.
In fact, a larger crash in speed was seen at two ISPs on 10 March, corresponding with the release of Call of Duty Warzone. The 83-101GB download of the video game sent speeds at two providers tumbling 4%, while others handled the onslaught with just a 1% degradation in speed.
Broadband networks have accommodated the higher traffic caused by the lockdown because they're built to serve many times their normal load and particularly have spare capacity during the daytime.
SamKnows said: "The UK's major ISPs are coping well with the increased demand from home workers during the COVID-19 pandemic. ISPs design and build their networks to cater for the busiest periods, which have traditionally been the evening hours. This means that their networks have been much more idle during the daylight hours, and are therefore able to absorb the additional usage that's a result of all of the new home workers."
SamKnows anonymised the results from specific broadband providers, but, notably, one (ISP D) has experienced a greater deterioration in performance since lockdown began.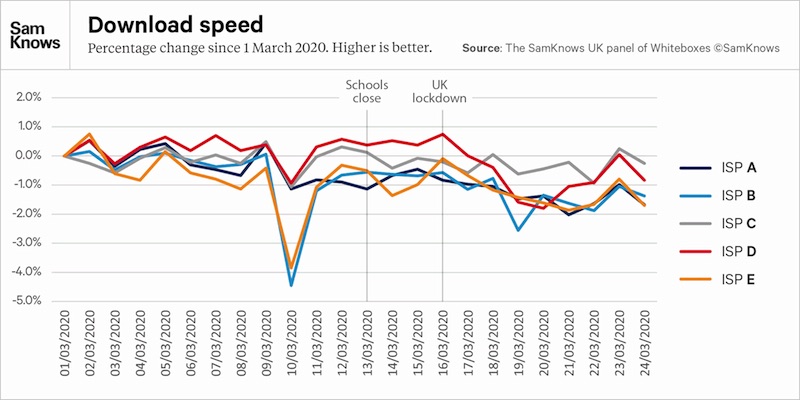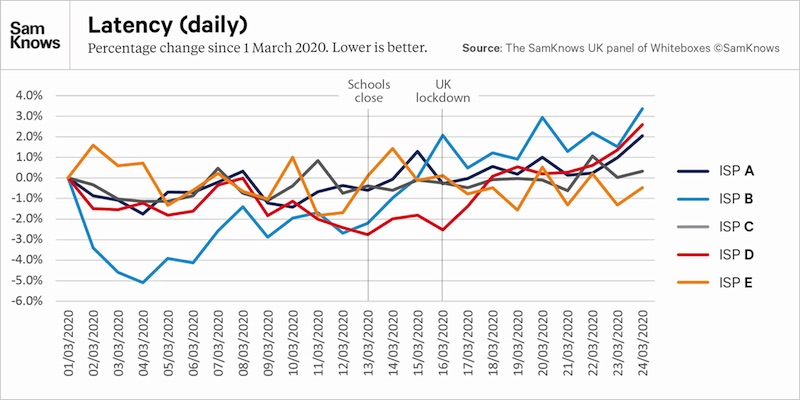 Unfortunately, SamKnows didn't release data about upload speeds, which are particularly relevant to teleworkers having to make video calls and upload data to remote servers.
SamKnows gathers data about network performance from around 4,000 "whitebox" modified routers installed in homes across the UK. These routers provide a more accurate analysis of the connection between homes and their ISPs than web-based broadband speed tests, which can be impacted by slow Wi-Fi, ageing devices and local network congestion. (For example, the broadband speed you receive on your laptop will be slower if your partner is downloading Call of Duty in the other room.) The sample size is small but the results so accurate that Ofcom uses SamKnows data in their annual fixed broadband speed report.