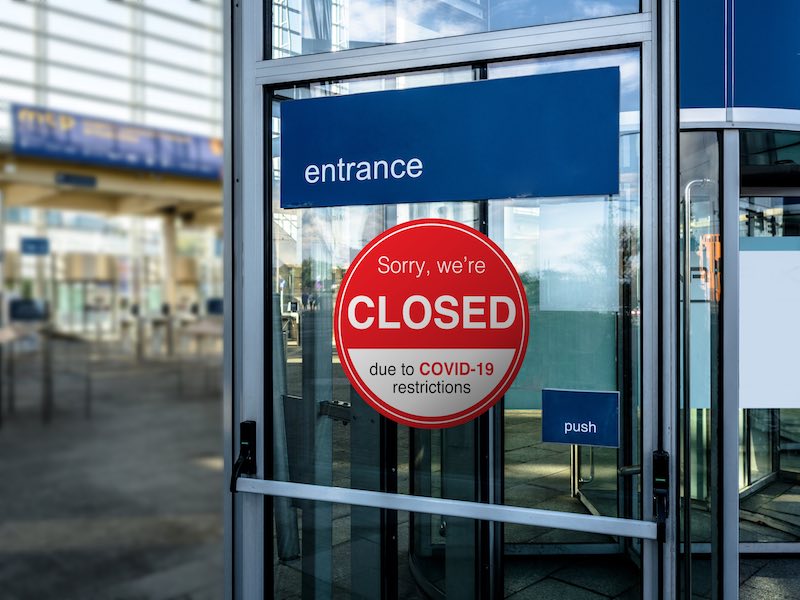 60% of Businesses Uncertain They'll Survive the Coronavirus Crisis
Banks have been urged to expedite the delivery of emergency loans to struggling businesses, after ONS figures reveal that a majority are unsure if they'll survive the coronavirus pandemic and lockdown.
The Office for National Statistics surveyed 4,598 businesses since the lockdown came into force two weeks ago and discovered most are struggling to stay afloat as the pandemic keeps customers and staff at home and freezes large sections of the economy.
Nearly half (47%) of the firms report that their sales are down over the last month, with businesses in the accommodation and food service sectors the hardest hit.
In an effort to trim overheads, three in ten companies (29%) reported that they had already temporarily reduced staff numbers between 9 March and 22 March, before the formal lockdown was imposed. But despite cost-cutting measures, just 40% of businesses are confident they'll weather the crisis.
The government has introduced business interruption loans to keep firms alive during the crisis but for many, the help isn't coming fast enough. Figures released by the Treasury Wednesday revealed that just 2,500 of these loans had been approved by banks in the two weeks since they were introduced.
Firms also complained that banks were rejecting them for the government's emergency loans, which are interest-free for the first year, and offering them the bank's own more expensive deals instead.
In response to these concerns, Chancellor Rishi Sunak revamped the loan scheme last Friday, and the Treasury insists that the number of loans approved and the amount lent have both risen sharply over the last week.
However, ministers have warned that the scheme is still unwieldy and have urged banks to act faster to keep the UK's businesses afloat.
Kevin Hollinrake, Tory MP and chair of the Fair Business Banking committee, said despite the Chancellor's reforms, the emergency loan scheme was still "not fit for purpose."
"Banks have to be far more proactive in turning these loans around more quickly to get money into firms' accounts. Otherwise many of them will go to the wall," he said.
Ed Davey, acting leader of the Liberal Democrats, called for an urgent review of the loan scheme.
"[The ONS]  figures show the unbelievable strain that businesses throughout the UK are under," he said.
"The Government has come up with several helpful measures but it seems that some of them, particularly the business loans scheme, are just not getting to the businesses and people that need them.
"The coronavirus crisis is going to be a painful time for businesses and individuals. The Government must constantly review their policies to ensure they are helping as many businesses as possible."