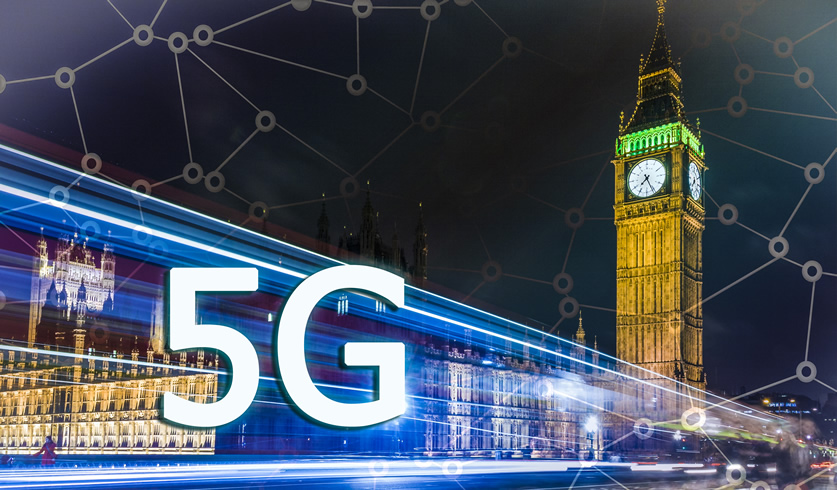 First 5G Network Launched in the UK
Mobile and broadband provider EE has today launched the UK's first 5G network in six cities across the country.
London, Birmingham, Manchester, Edinburgh, Cardiff and Belfast are the six urban areas that have been given first access to the next-generation mobile technology. EE is planning to extend its coverage to more cities and locations up and down the country by the end of the year. The firm hopes that 1,500 sites will have access to 5G before 2020, including the 'busiest parts' of major cities including Bristol, Coventry, Glasgow, Hull, Leeds, Leicester, Liverpool, Newcastle, Nottingham and Sheffield. However, it is expected to be a few years until consumers can reap the full benefits of 5G.
"Initially, coverage will be very patchy – some areas in city centers may have a good connection but little elsewhere," said William Webb, chief executive of Weightless SIG and 5G expert. "For many, there may be no 5G coverage where they live and work for many years."
The anticipation of the introduction of 5G in the UK has been building up with much hype over the last few years. The technology is expected to offer much faster download speeds than are currently available with 4G. According to the telecoms industry regulator Ofcom, devices connected to 5G could potentially see download speeds of up to 20Gbps, enough to download a full ultra-HD 4K film in a matter of seconds, and much faster than is available even with today's top-of-the-range household fibre optic broadband deals.
However, in order to make use of the new technology, devices must already be 5G-compatible. There are currently only four smartphones available for pre-order in the UK that can access EE's 5G network. These are the Samsung Galaxy S10 5G, OnePlus 7 Pro 5G, Oppo Reno 5G and the LG V50 ThinQ. Huawei has also launched a 5G smartphone recently, but EE has paused the sale of these devices after Google banned the firm's use of Android. The Chinese manufacturer has been in dispute with western governments in recent months over suspicions of state-sponsored espionage.
Marc Allera, chief executive of EE, said: "Until we get the information and confidence that gives us the long term surety that our customers, when they buy those devices, are going to be supported for the lifetime they've got the device with us…we've put those devices on pause."
The small number of 5G-compatible devices and the fact that the network currently only reaches certain areas of certain cities are not the only reasons that the availability of 5G will remain limited for some time. Contract prices for 5G devices on EE are much higher than usual, with their cheapest deal costing £54 a month as well as £170 up front for the handset. And as this mobile deal only offers a 10GB data limit, watching videos or playing games will see users reach this very quickly.
However, 5G mobile deals are expected to become cheaper in the future, especially after EE's rival mobile providers launch their own 5G networks. Vodafone is planning to rollout its 5G services at the beginning of July, and once there is greater competition in the market, prices will inevitably decrease.