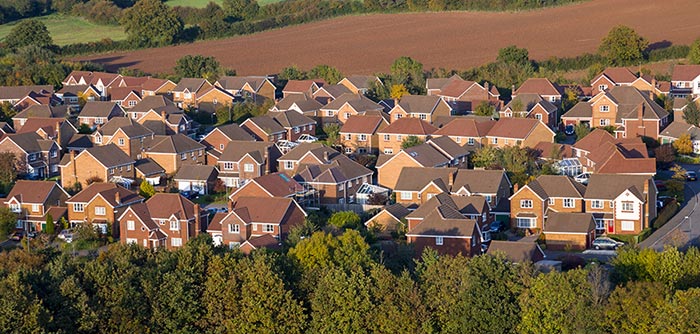 Annual UK House Price Growth Slows in August
The price of UK homes has failed to grow during the month of August, following a jump in the previous two months.
Annual house price growth slowed to 2.1% in August, which is down from 2.9% in July, fuelling fears that Brexit-led inflation is putting greater strain on household spending, according to Nationwide.
The price of properties fell for the first time since May, dropping by 0.1% in August, bringing the average price of a house in the UK to £210,495. Property price growth in the UK has begun to decrease drastically since the middle of the year, this has been put down to a range of factors, including uncertainty about Brexit, sluggish wage growth and a slow down in the rate at which mortgage rates are falling.
"Wages have been failing to keep up with the cost of living in recent months and consumer sentiment has weakened," said Robert Gardner, Nationwide's chief economist.
"Nevertheless, in some respects the slowdown in the housing market is surprising, given the ongoing strength of the labour market"
125,000 jobs were created in the three months leading up to June and unemployment rate fell to its lowest for 40 years at 4.4%. Mortgage rates also remained close to the lowest recorded
"Ultimately, housing market developments will depend on wider economic performance. The UK economy slowed noticeably in the first half of the year, and there has been little to suggest a significant rebound in the months ahead," continued Mr Gardner.
"While employment growth has remained robust, household budgets are under pressure. This suggests that housing market activity will remain subdued."
Even when considering the slowdown in the property market, Nationwide still believes that prices will increase in 2017 by 2% due to a decrease in new houses coming on the market.
Nationwide also pointed out that revenues raised from stamp duty had risen, reaching £12.8bn in the 12 months leading up to the middle of 2017. This is up from 10 years ago when Stamp duty peaked at £10.6bn in late 2007. This has been caused in part by massively inflated house prices, which have risen by 12% since 2007, but also by the increased stamp duty rate on higher value properties brought in at the end of 2014.
Many analysts agree that the market will continue to grow, fuelled by a continuing lack of housing stock. Savills predicted growth of 2% in 2018, and JLL predicted half that at 1%. Samuel Tombs, the chief UK Economist at Pantheon Macroeconomics, found that the basic trend in housing costs is only increasing slightly with prices have only risen by 1% this year.
"Prices likely will continue to struggle to rise much, given that inflation still has further to rise, consumer confidence has deteriorated sharply since June and lenders intend to reduce the supply of unsecured credit," He said.