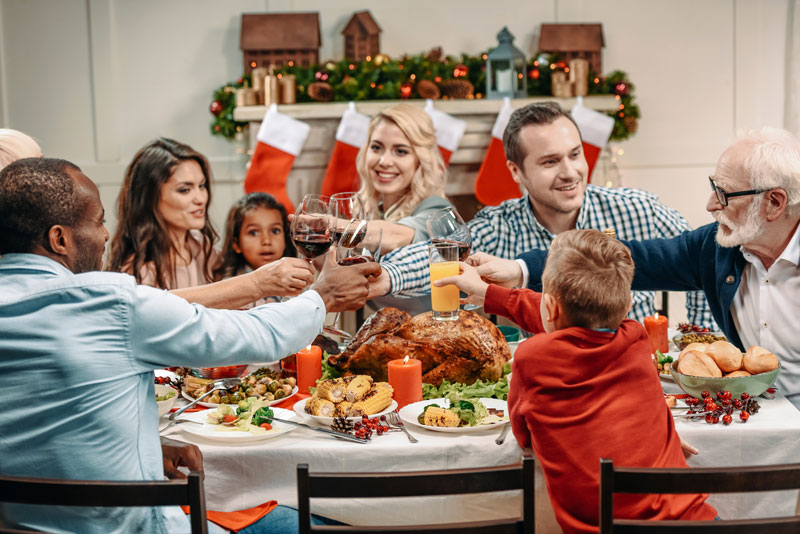 Top Tips for a Greener Christmas
Although Christmas is an exciting time of the year, it is often not the best time for the environment. Through everything from the use of lights to massive consumption of food and other gifts, a lot of energy and resources are used around the festive period.
But it doesn't have to be this way!
Here are some tips on how to have a more sustainable Christmas. It might seem difficult, but some small changes can make a huge difference!
Decorations
Rent a tree
Having decorations, including a Christmas tree, is an important part of this season for many people. Real trees are more environmentally friendly than artificial ones. Yet even with real trees, they are often dumped rather than recycled, which is not sustainable. Instead of buying a tree, renting one from a British farm is a greener option. After you rent it, it is replanted.
If you do buy a tree, ensure it has been grown as locally as possible. Check for the 'Grown in Britain' label. You can take the tree to certain drop-off points (check https://recyclenow.com/what-to-do-with/christmas-trees-1) where the tree will be recycled into chippings for woodland areas and local parks.
Use tinsel and baubles instead of lights to save energy
Companies such as 'Nkuku' offer designs made from glass, brass and wood, which are better alternatives to plastic options which cannot be recycled. If you choose to use lights, use LED ones, which use up to 80% less energy than standard bulbs. This small change can mean massively reduced energy consumption which not only helps the environment, but should shave a little bit off your energy bills as well.
Use a reusable advent calendar
Many advent calendars cannot be recycled, so using a reusable one is more sustainable. It also means that you can choose what to fill them with, whether that be chocolate, other sweet treats or small toys.
Gifts
Go for eco-friendly and Fairtrade gifts.
Many gifts are exchanged during the festive period, and sadly a large amount of them are disposed of soon afterwards, which is damaging for the environment. When shopping for presents, look out for logos such as 'Fairtrade' and 'Rainforest Alliance.' Even better, get creative and make your own gifts! For example, making food or painting will not only be greener, but more personal.
Don't use wrapping paper
Certain types of wrapping paper cannot be recycled, such as those made with glitter, but there are many better alternatives. If you are unsure about whether your wrapping paper can be recycled, scrunch it up in your hands and let it go. If it stays scrunched up it can be recycled, but if it unfolds it cannot. Using brown paper or reusing gift bags, boxes and tissue are greener options. You can also use fabric, which can be reused.
Send e-cards or forest-friendly cards
According to Imperial College researchers, 1.5 million cards are disposed of by UK households per year. This can easily be avoided. Sending an e-card reduces the paper used, and it is a convenient way of sending a message to many people at once. It can also be a fun way to get creative with the design, including pictures highlighting your year. There are online platforms to help you do this, such as Canva. If you want to send cards, look for ones with the Forest Stewardship Council (FSC) mark, as this means that the paper has been produced ethically and sustainably.
Food
Plan your dinner carefully to reduce waste.
One of the best things about Christmas is the food, and if you are hosting you do not want to have too little to go around. But food waste is a big problem, even year-round: UK households throw away around £12.5 billion worth of good food each year.
One option is to buy less to reduce so much waste. There are also many things you can do with leftovers instead of disposing of them. For example, blending leftovers into a soup that can be frozen for a later date. Plenty of leftover food can be frozen, meaning it won't go to waste. There are many recipes online for dishes made with Christmas leftovers. Look at these from the BBC to get inspiration: https://www.bbcgoodfood.com/recipes/collection/christmas-leftovers
Eat less meat
For many households, meat (such as turkey) is an important part of the Christmas meal. Even if you do not cut out meat completely, reducing the amount you have is better for the planet. There are a lot of tasty meat-free options, such as a nut roast.
Switch to organic alcohol
This reduces the impact of pesticides and fertilisers on the environment, and it even leaves you with less of a hangover than other options. What more could you ask for?
So as you can see, if you're not careful, the environmental impact of the Christmas period can get out of control. But luckily, reigning it in doesn't take too much effort. With a bit of help, not only can you have a greener Christmas, but a more creative one too, through making your own decorations and gifts, and preparing food from leftovers!