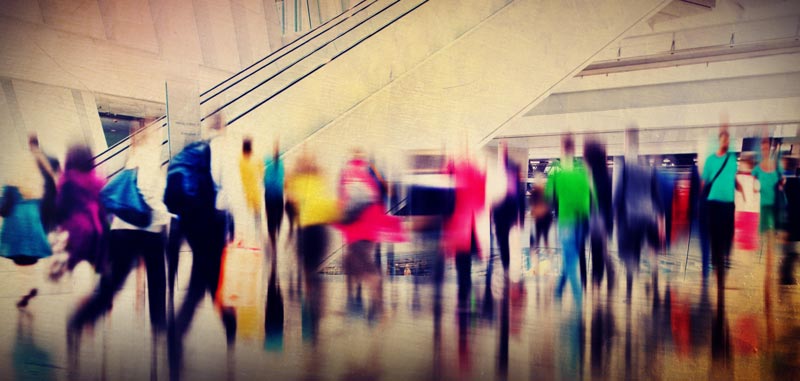 Shops Failed to Lure Black Friday Shoppers Outside
Retail research shows Black Friday to be an increasingly online phenomenon, with November seeing the lowest monthly in-store footfall since 2008.
Retail technology company Springboard released figures showing a 3.2% decrease in the footfall at shopping centres, retail parks and High Streets during November –  a sign that the various Black Friday promotions failed to provide a boost to sales in physical locations.
High streets experienced the biggest fall, with footfall dropping 3.8%, whilst retail park visits were down 1.4%.
The data is being touted as "indisputable evidence" that the Black Friday sales drive benefits online retailers while having far less on an impact on sales figures at physical stores in the run up to Christmas.
Springboard measured a 3.5% year-on-year decline in the footfall seen since December 2017, and predicts a decrease of 4.2% for December 2018.
Diane Wehrle, marketing and insights director at Springboard, said "these figures are the worst footfall figures that Springboard has recorded since the recession and we're not actually in recession". She added that "its clear that something significant is happening out there in consumer demand. It has really railed back this year."
As a result of the decreased number of people shopping at brick-and-mortar locations, Wehrle predicts the collapse of more High Street chains in early 2019.
Springboard also explained that Brexit was a big factor in the purchasing decisions made by UK consumers, saying that the uncertain times may drive people to buy now rather than later after the mid-December government vote in order to avoid inflation:
"As we head into the zenith of the retail trading calendar, both retailers and consumers alike are in the midst of the greatest degree of uncertainty in recent times, however, the fact that the Parliamentary vote is not taking place until the middle of December might deliver a slight glimmer of hope for some large-ticket item retailers, as consumers may purchase now rather than later, in an attempt to outrun inflationary pressures that are expected should the Brexit deal not be ratified."
Chief executive of the British Retail Consortium (BRC), Helen Dickinson, had a similar take on events, adding that the absence of a transition period would result in consumers facing higher prices:
"It has been a difficult year for many retailers and the outlook remains challenging as Brexit uncertainty grows. Retailers will be following the upcoming parliamentary vote closely and hoping Parliament can secure a transition period to allow businesses time to adapt to life outside the EU. Without this transition, consumers face higher prices and less choice on their shopping trips."
Regionally, physical stores in the East saw the biggest declines in footfall, recording a 5.6% decline, with the South East and East Midlands following closely behind with 4.8% and 4.7% respectively. It wasn't all bad news across the UK, however, as Northern Ireland recorded a net increase of footfall to the tune of 2.7% - seeing an increase for the second consecutive month.
In other research BDO released figures which showed that business confidence last month reached the lowest point since January 2017.