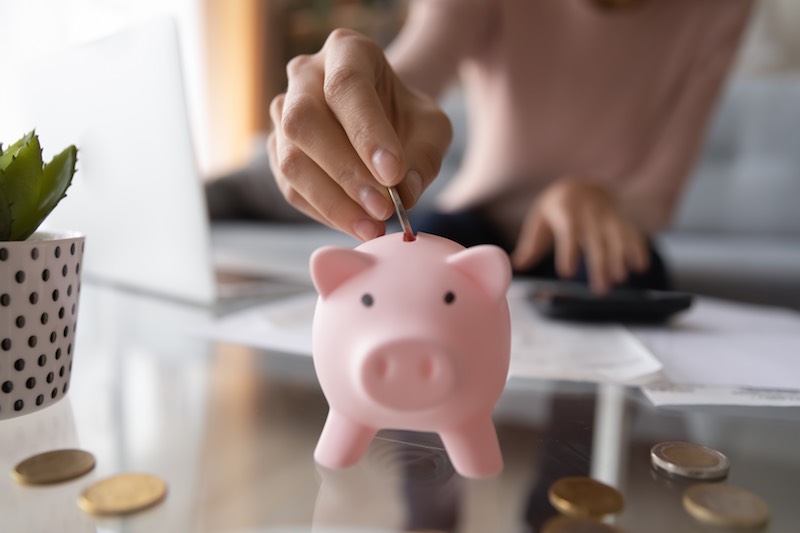 Savers Added £11 Billion to Easy-Access Accounts During Lockdown
Savings rates have cratered, but Britons are still socking away cash in easy-access accounts to weather the coronavirus crisis—if they can afford to.
The amount of cash squirrelled away in easy-access savings accounts was up 303% in March and April, as the Britons responded to the economic uncertainty of the pandemic and falling expenses by stashing money where they can easily reach it.
Savers piled £11 billion into easy-access accounts in the two-month period, compared to just £2.7 billion stashed in March and April 2019, according to data from Paragon Bank.
Savers shovelled so much money into Goldman Sachs' online savings account Marcus that the bank had to temporarily suspend deposits into the accounts, as total deposits neared the £25 billion threshold after which the Bank of England requires funds be ringfenced in a separate financial institution.
The savings frenzy comes despite savings rates falling to record lows. The average interest paid on easy-access accounts stood at 0.56% in March but had fallen to 0.40% in May and as of June stands at just 0.3%, according to data from Moneyfacts.
Rates on easy-access ISAs followed a similar trajectory, starting at 0.83% in March, before lockdown measures were imposed, before dropping to 0.63% in May and hitting just 0.45% today.
Currently, more than a third of savers' money, a total of £176 billion, earns just 0.1% interest or less.
If that £176 billion was shifted to accounts paying 0.5% interest, savers would earn £704 million more interest a year, Paragon calculated.
17 easy-accounts are currently paying more than that, with the best buy, income bonds from NS&I, the UK's state-owned savings bank, paying 1.16%.
Paragon's data covers money deposited into savings accounts from CACI, which include the UK's largest banks and building societies, and smaller savings providers like Ford Money and Shawbrook Bank which regularly offer market-beating interest rates. It echoes figures from the Bank of England, which found savers stashed away £30 billion in March and April, three times as much as they saved in the first two months of the year.
But while deposits into instant-access accounts have surged, the amount of money held in fixed-term or notice accounts fell. Savers clearly want easy access to their cash as the economic ground shifts beneath their feet, a senior banker at a challenger savings bank said.
"The lockdown has seen savers lock down their spending, but they aren't prepared to lock down their savings, they want it close to hand. People are spending less, withdrawing from savings less and topping up savings more. What they are saving they want quick access to given the economic uncertainty, which is very sensible," the anonymous banker said.
While the coronavirus crisis has thrown the UK economy into turmoil, some households have come out ahead, as their commuting and entertainment expenses have fallen. The Office for National Statistics (ONS) calculated that lockdown restrictions have prohibited an average of £182 a week of household spending.
Fortunate households are putting those saved pounds into savings accounts or using them to pay off debts. A record £7.4 billion of credit card and loan debt was cleared in April.
But while some are seeing a windfall, other households are facing spiralling debts. Debt advice charity StepChange has estimated that 4.6 million households have already racked up £6 billion in debt as they default on bills and rely on credit cards to make ends meet.
So the savings bonanza is largely limited to the wealthy. According to the Resolution Foundation, two in five high-income households have seen monetary gains during the pandemic, compared to just one in eight low-income families.