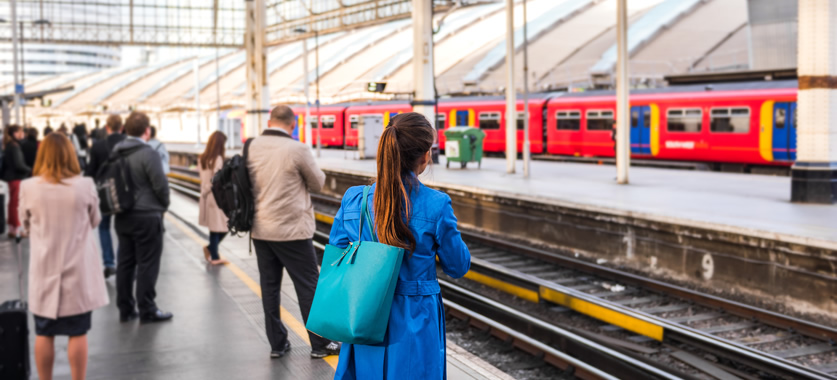 Rail Fares to Rise by 2.8% Next Year
Some commuters will see the cost of their annual season tickets rise by more than £100, as rail fares rise by 2.8% from January.
The rise of regulated fares is linked to the retail price index (RPI), a measure of inflation, from July the previous year. The latest RPI, released by the Office for National Statistics (ONS) Wednesday, was 2.8%.
The hike will apply to regulated tickets, which include 45% of all tickets sold, including season tickets. The price of unregulated tickets, including advance tickets, is set by train companies.
In 2019 the rise was set at 3.1%, the RPI rate from July 2018.
The 2020 increases mean that the average commuter will now be paying more than £3,000 for their season ticket, 40% more than in 2010, Labour said.
The hike will add £91 to the price of a Leeds to Manchester season ticket, taking it to £3,363. Commuters travelling between Brighton and London or Edinburgh and Glasgow will pay £117 more for their £4,000+ season tickets.
Labour has said it will take railways back under state ownership as franchises expire.
Andy McDonald, the shadow transport secretary, said: "The government has sat back and allowed private train companies to cash in while people's pay has been held back. Continuous fare rises undermine urgent action to tackle the climate emergency by pricing people off the railways."
The Trade Union Congress (TUC) said the overall cost of train travel has risen by 46% since 2009, while wages have only increased by 23%. British commuters now pay the highest ticket prices in Europe and suffer from overcrowded and understaffed trains, TUC general secretary Frances O'Grady said.
Hikes will drive passengers away at a time the UK needs more commuters and travellers using rail services rather than cars in order to decarbonise the economy.
Bruce Williamson, from the campaign group Railfuture, cautioned: "It might be that we've now reached the point where we cannot simply put fares up and expect passengers to take the hit. They will just give up and refuse to pay. They will either find another job or another form of transport."
The number of journeys made by commuters using season tickets has fallen 12.5% over the last three years, from 712 million in 2015-16 to 625 million this year.
Campaigners have called for a reform of the fares policy, pointing out that the more commonly used measure of inflation, the consumer price index (CPI) was just 2.1%.
Transport Focus, independent watchdog for the sector, has called for a "fairer, clearer fares formula based on CPI, rather than the discredited RPI."
David Sidebottom, director of Transport Focus, said: "After a year of more stable, but still patchy, rail performance many rail passengers will be mystified that rail fares should be going up at all, let alone by 2.8% next January."
He said that the national passenger survey revealed that less than a third of rail commuters thought their tickets were delivering value for money.
Although previous transport secretary Chris Grayling had discussed using the CPI rate for the rail fare increase, the government is now defending January's increase.
Rail minister Chris Heaton-Harris said the price hikes would ensure investment on the lines.
"It's tempting to say fares should never rise, but the truth is that if we stop investing in our railway then we'll never see it improved," he said.
The Rail Delivery Group (RDG), which represents private train operators and Network Rail, defended the rise as necessary for investment, saying 98p of every £1 collected in fares was put back into running the railways.