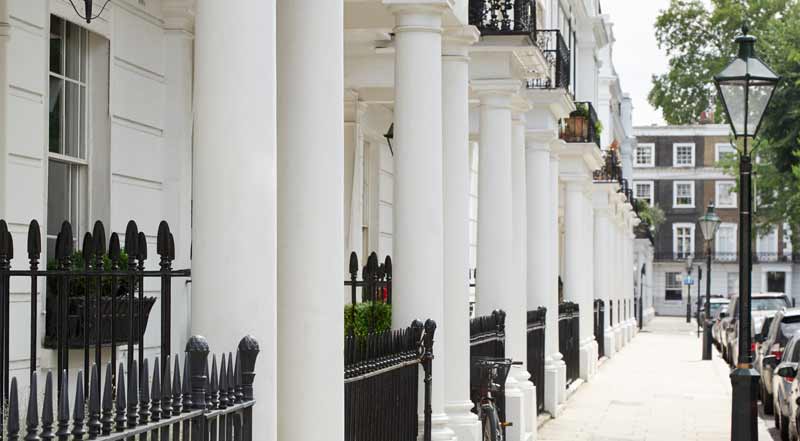 Prices Fall for Prime London Properties
Estate agents Stirling Ackroyd have published data showing that while the majority of London boroughs saw annual increases in average property prices, price up at the top end have fallen.
Their data shows that over the past year, house prices in the large majority of the London property market increased by 8.2%, but in the 'top quarter', prices actually fell by 2.4%.
"The traditional 'top quarter' accounts for two thirds of Greater London's postcode districts" according to Stirling Ackroyd, and includes areas like Kensington and Chiswick. The biggest drop in prices was seen in Kensington High Street, where the average property now costs 11.8% less than it did a year ago, with Notting Hill following close behind with a 10% drop.
Prices in these boroughs are still high though, with average properties costing £1.8 million in Kensington High Street and £1.5 million in Notting Hill.
While the property market in the UK has been greatly affected recently by the latest Stamp Duty changes on buy-to-let and second properties, the prime market (in London in particular) is still reeling from the effects of Stamp Duty changes made back in December 2014. These changes, which turned the previous 'slab structure' of the Stamp Duty brackets into a more steady, income tax-like structure, added to the cost of all properties worth over £937,000.
Stirling Ackroyd's managing director, Andrew Bridges, said that these figures point towards a general shift in the London property market. There are several factors affecting the profitability of prime properties, domestic and international, but with the market taken as a whole, high demand and low supply are what force prices up. And that demand is (largely) not for prime properties: more and more people are looking in more affordable areas of the capital, whether young first-time buyers or older, more affluent families.
Bridges said: "London's hugely diverse property market is undergoing a serious readjustment, with the tradition old heart of 'prime' London under pressure from many fronts – from a low global oil price and China's economic slowdown, to stamp duty reform and international fears of Brexit.
"Yet for most of London's communities, these factors affecting luxury buyers are less important. There are still too few new homes coming onto the majority of the market compared to demand from a growing population – and the majority of the London market is still in tune with, and restrained by, those fundamentals.
"There is also an outwards wave of interest, away from the old peaks of property prices. Within the wider spread of London home buyers, a growing band of increasingly affluent people can no longer afford the most overcrowded traditional areas of 'prime' London – and this demographic of professionals are redefining the map of the capital's upand-coming locations. New, dynamic parts of London are emerging further east, driven by a less traditionally exclusive but highly aspirational clientele."
While Bridges did concede that this top slice of the London property market where prices fell last year "will probably rebound in time, the latest blip should act as a health reality check".
"Posh no longer means profitable" he said, as something of a warning to would-be property investors, "or at least you can no longer presume so."
And the difference in profitability (if this is how one chooses to view the market) is fairly staggering. Stirling Ackroyd's report shows that within this 'top quarter' the chance of a borough's house prices falling rather than rising is at just under 50%. For the rest of the capital, however, the chance of a borough's average prices going up is at a comfortable 93%.
A large part breakaway from traditional property market value structure is led surging popularity in areas like East London, with the large majority of those experience price drops in West and South West.
The largest price increase was seen in Soho in West London (32% annual growth), but, as Bridges said: "Soho has always seemed at odds with more conventional parts of the West End, offering a vibrant culture more in tune with East London".
Areas like Enfield and South Norwood also saw large price increases, along with Sutton and Croydon, where prices grew by 22.7% and 22.6% respectively over the year.