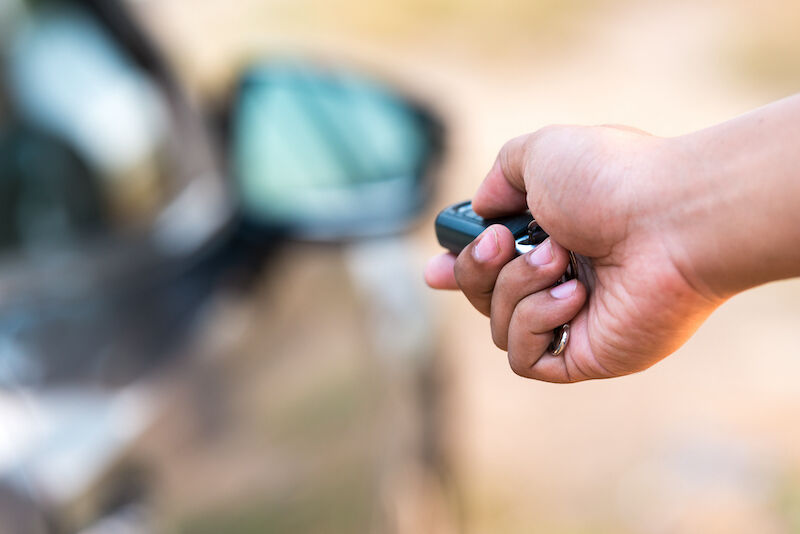 Police Warn Motorists as Keyless Thefts Increase
Police have seen an uptick in thieves hijacking keyless entry systems to swipe cars right from victims' driveways and are urging motorists to take precautions against this type of crime.
Provisional data from the National Police Chiefs' Council show a 3.1% increase in vehicle crime between May and June of this year, with most of this increase coming from keyless theft. Tracker, provider of vehicle tracking devices, estimates that 92% of the cars stolen in 2019 were taken without keys, up one third since 2016.
So how does this devious crime work? Keyless entry fobs—standard with nearly all cars these days—broadcast a unique signal to unlock the vehicle and starts its engine. The signal normally only works if the key is within a few feet of the car but thieves have found a way to trick the entry system into thinking this is the case, using relay amplifiers and transmitters. These devices can be purchased in the dark corners of the web relatively cheaply.
Thieves find a vehicle parked close to the owner's home. One accomplice stands near the car with a transmitter, while the other walks around the house with an amplifier, trying to pick up the signal from your key fob—hanging on your key rack or in your purse beside your couch. Once he grabs the signal with the amplifier, he relays it back to his accomplice, who is then able to use the transmitter like a key. He unlocks the car, starts the engine, and they drive away, all without setting off alarms, breaking windows, or causing a disturbance.
Jenny Sims, National Police Chiefs' Council lead for Vehicle Crime, Assistant Chief Constable, said: "Whilst the rapid development of technology has dramatically improved the experience of drivers it has also allowed criminals to exploit weaknesses in electronic security."
While your car insurance will cover the replacement of your vehicle if it's stolen using its keyless entry system, the process of making a claim can be stressful. Last year a survey from a comparison site found that nearly one fifth (18%) of theft victims said dealing with their insurer after their car was stolen was the most stressful part of the entire ordeal. Additionally, you'll see your premiums go up substantially after a theft—by an average of £629, according to that comparison site.
The police say they are vigorously tackling keyless car theft. Last week, Leicestershire Police secured convictions of seven members of an organised crime gang who stole more than 50 vehicles, worth more than £2.4 million, with relay amplifiers and transmitters. The thieves were jailed for a total of more than 30 years.
Earlier this month in Liverpool, five people were sentenced to more than 23 years in prison for crimes including the keyless theft of cars worth more than £2.6 million. Additionally, in Cheshire, a man was sentenced to more than 7 years in jail for several keyless car thefts.
Sims says the police are working with car manufacturers to "design out" this type of crime. They're "making substantial progress in this regard," but until solutions are put into production, she urges drivers to take simple steps to prevent car theft. This can include storing your keys in metal tins or protective pouches that block signals from the devices thieves are using or keeping the keys away from doors and windows.