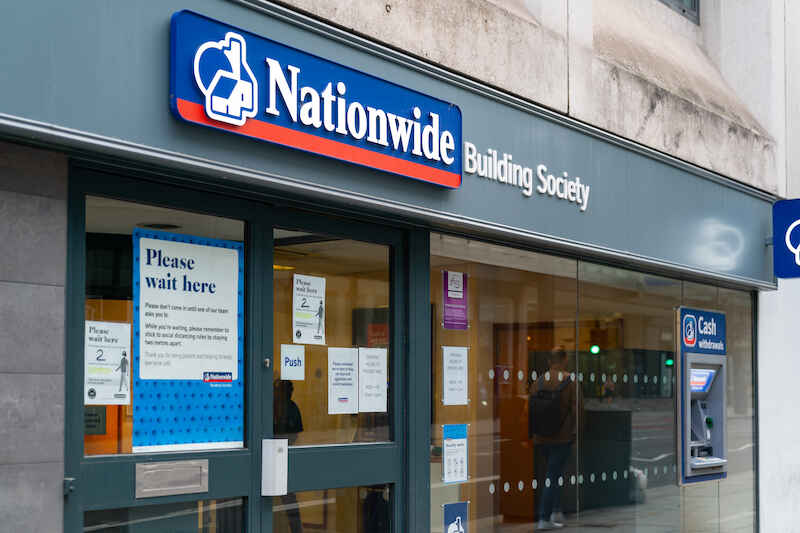 Nationwide Boosts Interest on FlexDirect Current Account to 5%
Consumers weary of the paltry 0% and 0.01% paid by many high-street current accounts have been extended a lifeline by Nationwide as it resurrects the 5% rate on its FlexDirect account.
From this week, new applicants can earn a market-leading 5% AER interest on balances of up to £1,500 for the first 12 months. That means earning up to £75 on the cash sitting in your current account.
The interest rate hike comes more than two years after the building society slashed the 5% rate on the account to just 2% in the first weeks of the pandemic. Nationwide said the revived 5% rate will "help new and existing members make the most of their money, which is particularly important right now."

The 5% rate easily outstrips rival current accounts and many savings products too. Virgin Money's "high-interest" M Plus current account pays just 2.02% AER variable interest on up to £1,000. Virgin Money also offers one of the best easy-access savings accounts, but it pays just 1.5% on balances, although you can stash more than in a current account (£25,000).

Meanwhile, US bank JP Morgan has caused a frenzy in the UK by launching its Chase brand on these shores with an instant-access saver paying 1.5%. However, you'll need a Chase current account to open a savings account and consumer interest in the account is so high that Chase is placing applicants in a virtual "waiting room" and warning them they could be queuing for up to five weeks.

After the first year, interest rate on Nationwide's FlexDirect account drops to a variable 0.25% AER. But the introductory offer so far outpaces rivals that it's worth taking advantage of for a year.
The account also comes with an interest-free overdraft for the first 12 months, which will "give some peace of mind to those struggling financially and freeing them to focus on repaying other debts," said Debbie Crosbie, chief executive of the building society.
"Being able to offer highly competitive rates is one of the biggest benefits of mutuality," she added.
Nationwide is also still running the generous switching offer it launched last August. It's offering a £125 bribe to existing members who hold another product, such as a mortgage or savings account, and open a current account. Completely new customers will receive a £100 bonus for switching their current account.
Paired with the £75 interest you can earn on balances in the current account, that's an uplift of £175 or £200 in the first year.
It's generous switching offers like that, along with a growing preference for the ethos behind building societies, that has put Nationwide at the head of the current account race.
According to recent figures from the Current Account Switch Service (CASS), Nationwide attracted the most new current account customers through the service between 2016 and 2021. The country's largest building society gained more than 6601,000 current accounts across those five years, nearly double the 353,000 added by the second-place finisher Halifax.
Nationwide's own figures reveal that in the last financial year alone, a record 604,000 people switched to the society, "many looking for a credible and attractive alternative to the big banks," it said.
Sources