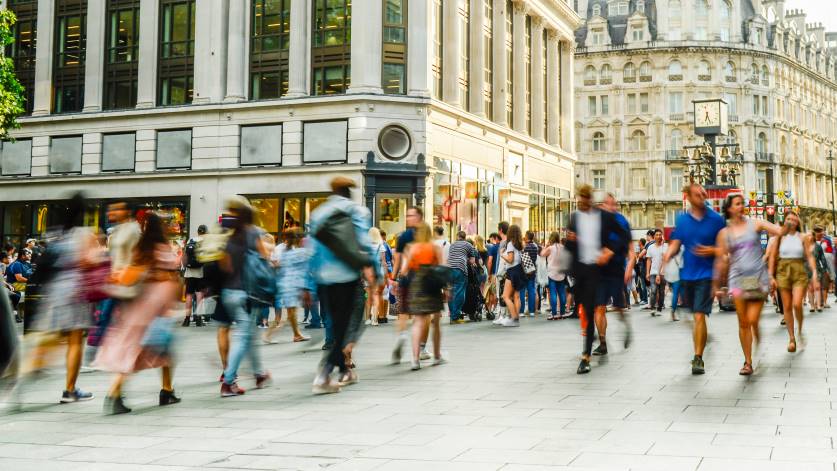 High Street Footfall Boosted by Shoppers Making 'Revenge Purchases'
The reopening of non-essential shops in England and Wales last week saw shoppers flocking back to the High Street to treat themselves.
Data from analyst Springboard shows an 87.8% increase in week-on-week footfall in UK shopping destinations.
Jewellers Beaverbrooks reported that sales and visitor numbers in its stores had spiked last week, with consumers making 'revenge purchases' to make up for months of not being able to shop.
Managing Director, Anna Blackburn, said: "I think there's a lot of that. Through lockdown we saw online that people weren't going away, they were getting refunds and were spending and treating themselves because they've probably saved money.
"Now I think there are still limitations to what people can do, and I think they're thinking they've always wanted that Swiss watch or that diamond ring, and they are just treating themselves which is brilliant to see."
Springboard said there was a 330% increase in footfall across shopping centres, High Streets, and retail parks last week when compared to the same week in 2020.
The greatest demand was measured in the East Midlands, South West, and South East, however overall demand was about 25% lower than in 2019.
Insights director at Springboard, Diane Wehrle, said: "These results provide concrete evidence of the desire of shoppers to return to bricks and mortar stores and destinations.
"The key issue for retail destinations will be whether this momentum can be sustained."
Wehrle said that data from previous lockdowns suggested that footfall will continue to rise over the coming weeks.
"The reopening of indoor hospitality on 17 May will provide a further boost to retail destinations as many indoor venues are located in High Streets and shopping centres," Wehrle added.
Retail analyst at Savvy, Catherine Shuttleworth, said a multitude of factors boosted sales figures, including good weather and school holidays.
"A lot of people have money in their pockets that they want to spend. Whilst online is a way we can do our shopping it is quite boring and dull, and I think we have overdosed on that," Shuttleworth said.
"It is also a physical manifestation of getting back to normal. People want some signal that life is changing back to what it used to be and the shops opening is a sign of that.
"Our town centres have been like ghost towns so going back and putting your money into them is a really positive thing."