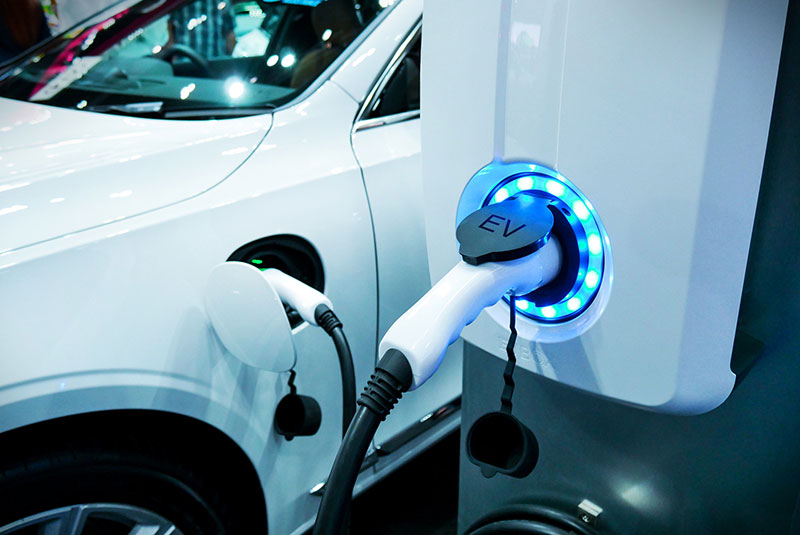 Electric Vehicle Charging Points Could Be Required in New Homes
Charging points for electric vehicles could become a requirement for newly built homes under government proposals aimed at makingto make the UK "the best place in the world to build and own an electric vehicle" in the run-up to the 2040 ban on the sale of petrol and diesel cars.
The plans, which also involve including clude charging points in new street lighting columns in places with on-street parking, are designed to make recharging an electric vehicle easier than refuelling a petrol or diesel car.
The proposals were unveiled by Transport Secretary Chris Grayling as part of the government's long-delayed Road to Zero strategy. The strategy seeks to phase out petrol and diesel cars in a bid to meet the government's target of reducing emissions by at least 80% of 1990 levels by 2050. The government aims to have at least half of all new cars sold to be 'ultra- low emission's by 2030, with the ban of "conventional" petrol and diesel cars to follow a decade later. By 2050 all vehicles on the UK's road will need to be ultra-low emission.
Under the measures, new buildt homes and offices will be outfitted with charging points as standard, streetlights will double as charging ports, and more money will be funnelled into developing charging infrastructure. There are already 13,000 public electric vehicle charging points in the UK, five times the number that existed in 2011.
In contrast the number of filling stations (most of which have multiple pumps so cannot be compared directly to EV charging points) fell to 8,400 in 2017, down from 13,000 in 2000.
However, AA found that 80% of drivers site the lack of charging points for EVs as a sticking point in their adoption of electric vehicles.
Just 5.5% of the new vehicles sold in the UK in the first six months of 2018 were electric or hybrids, up from 4.3% over the same period in 2017.
Grayling said the Road to Zero Strategy "sets out a clear path for Britain to be a world leader in the zero emission revolution—ensuring that the UK has cleaner air, a better environment and a stronger economy."
However, environmental campaigners have slated the long-delayed plans as not ambitious enough to meet the growing global climate crisis and tackle air pollution that contributes to 40,000 early deaths in Britain each year.
"Ministers keep saying they want Britain to be a leader in electric cars, yet they've set a phase-out date for petrol and diesel that's a decade behind other countries," Greenpeace UK clean air campaigner Paul Morozzo said.
Scotland has announced the intention of banning sales of new petrol and diesel vehicles by 2032, eight years ahead of the rest of the UK. Meanwhile, in Norway the ban will start in just seven years, in 2025. The Norwegians have a massive head start on the switch, however. In 2017, more than half (52%) of all new vehicles sold in the country were zero-emission.
Campaigners also cited concern about the UK government's plan to exclude hybrid vehicles from the 2040 diesel and petrol ban, after the lobbying of auto makers like Toyota.
Word count: 524