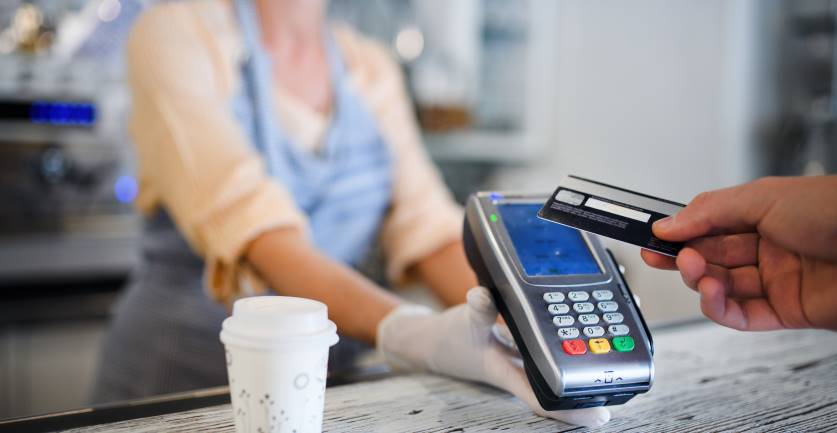 Contactless card limit to rise in October
Banks have announced that the spending limit for contactless cards will rise to £100 from 15 October.
The maximum amount was raised from £30 to the current level of £45 at the beginning of the pandemic. Plans to increase it further were announced in the Budget.
Tap-and-go technology currently accounts for nearly two-thirds of all debit card transactions.
However, academics warn that increasing the limit could lead to an increase in crime.
In 2007, when contactless payments were first introduced, payments had a transaction limit of just £10. Cards subsequently became commonly used in place of small change for groceries, snacks, and newspapers.
The limit was increased to £20 in 2012, and then again to £30 in 2015.
To reduce contact between customers and staff during the pandemic, shoppers were urged to use contactless payments in many shops to avoid cash withdrawals.
The government and the industry quickly increased the limit to £45, and then announced plans to increase further to £100. According to banks, this will enable people to pay without requiring a PIN when filling up their cars with petrol, or for their weekly food shops.
However, retailers will need to wait for the new limit to be implemented due to the large number of terminals that must be upgraded in order to accept the new limit.
Rishi Sunak, Chancellor of the Exchequer, said: "Increasing the contactless limit will make it easier than ever to pay safely and securely. As people get back to the High Street, millions of payments will be made simpler, providing a welcome boost for retailers and shoppers."
However, there are fears that criminals will be tempted to increase their efforts to steal cards as a result of the limit increase.
A report carried out on behalf of UCL's Jill Dando Institute of Security and Crime Science said that debit and credit cards were now "hot property" for fraudsters.
"Raising the contactless card limit to £100 would likely make card theft more attractive, increasing a broad range of acquisitive crimes including snatch theft of wallets and purses, hold-up robberies, and home and vehicle break-ins to find cards that can be used fraudulently," said the report.
"Past experience suggests it could attract new cohorts of teen criminals who are more likely to progress to extended criminal careers, with implications for longer term crime rates."