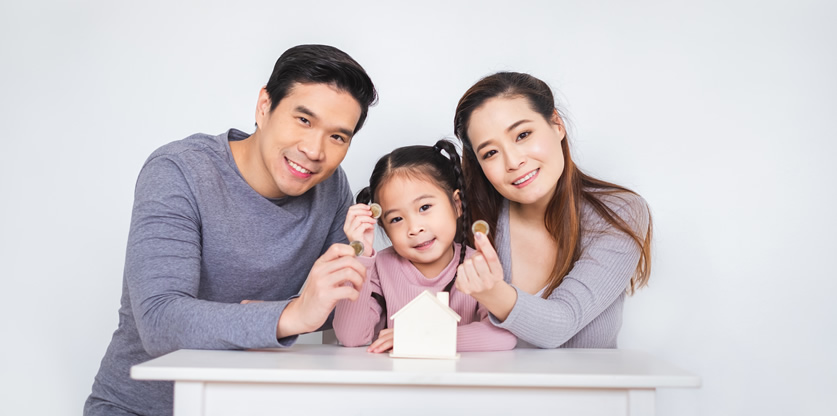 'Bank of Mum and Dad' One of Britain's Largest Mortgage Lenders
UK parents are now one of the country's biggest mortgage lenders, according to a survey by Legal & General.
The latest research from the financial services company revealed that around £6.3 billion had been given out by parents and grandparents to help their relatives buy a house in 2018 alone. Prospective buyers who had help from their family received an average of £24,100 per donation, over £6,000 more than they did on average in 2017.
The study found that if parents were collectively measured as a bank, they would now be in the top 10 mortgage lenders in the UK. They were not far off the £6.8 billion lent out by Virgin Money last year, but Clydesdale Bank – officially the tenth biggest mortgage lender in the UK – lent just £5 billion, over a billion less than the 'Bank of Mum and Dad'.
Most of the money given out by parents was to pay towards deposits. According to Halifax, the average deposit needed for a first-time buyer in the UK is over £32,000, while in London it can often be as high as £80,000.
1,600 parents were surveyed in the study, and just over half used cash to help their children to either buy their first home or upgrade to a new one. However, the remainder are dipping into their savings or their pension funds to help their loved ones.
Legal & General has warned that these older generations that are helping their families could be harming their own financial futures. Over a quarter of respondents in the survey said they're not confident they have enough cash to last their retirement, while 15% said that they had accepted helping out their children will mean a lower standard of living for themselves.
"There are a vast range of considerations today's retirees face when it comes to planning their finances, from whether they can afford to help their children buy a home, to setting aside funds for any future needs they may have," said Chris Knight, chief executive of Legal & General's Retail Retirement division.
"Parents and grandparents across the UK want to see their loved ones settled in homes of their own and are giving generously as part of the Bank of Mum and Dad. Many are using their pensions and savings to help out and unfortunately this could be leaving some facing a poorer retirement, especially if they don't get the right advice."
The top 10 mortgage lenders in the UK in 2018 were:
| | | |
| --- | --- | --- |
| Rank | Bank | Amount Lent |
| 1 | Lloyds Banking Group | £42.5bn |
| 2 | Nationwide | £35.7bn |
| 3 | Royal Bank of Scotland | £30.5bn |
| 4 | Santander UK | £28.3bn |
| 5 | Barclays | £23.1bn |
| 6 | HSBC Bank | £21.5bn |
| 7 | Coventry Building Society | £9.2bn |
| 8 | Yorkshire Building Society | £8.7bn |
| 9 | Virgin Money | £6.8bn |
| n/a | 'Bank of Mum and Dad' | £6.3bn |
| 10 | Clydesdale Bank | £5bn |