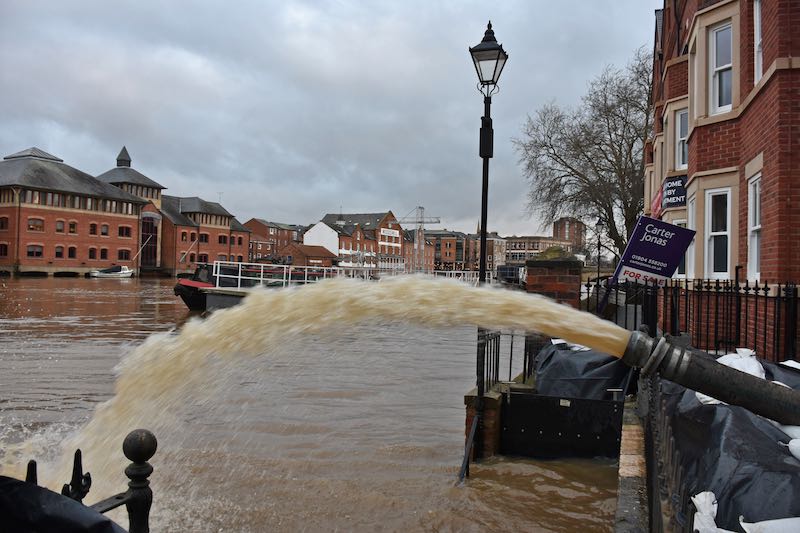 70,000 New Build Homes in Flood-Prone Areas Could be Uninsurable
Tens of thousands of new build properties in flood-risk areas are ineligible for a government-backed insurance scheme, leaving them either ineligible for home insurance or facing staggering premiums.
The Flood Re scheme, launched by the government in 2015, gives 350,000 homeowners in flood-prone areas access to affordable insurance cover. However, homes built after 1 January 2009 are ineligible for the scheme.
Liberal conservative think tank Bright Blue has found that 70,000 homes have been built on land in England at the highest risk of flooding since 2009, including 20,000 homes not protected by flood defences. Residents of these properties may be charged exorbitant rates for cover or may be entirely unable to find home insurance, leaving them at risk of ruinous financial damages.
£31 billion worth of properties have been built after 2008 on flood-prone land, including £5 billion of properties unprotected by flood defences. Lincolnshire had the highest concentration of unprotected, at-risk properties.
Bright Blue said the government has not done enough to warn homebuyers of their flood risk and the insurance implications.
Author of the report Helen Jackson said: "Government policy over the past decade has seen individuals as entirely responsible for finding out their flood risk, but obviously many are simply not aware.
"Many of those seeing their communities deal with flooding would view this onus on them as individuals to have understood how flooding could affect them as a bit heartless."
She said the 2009 cut-off date was implemented in order to discourage developers from building properties on flood-prone land. However, she said research found no evidence that the 2009 cut-off has influenced where developers locate new properties.
She also noted that there is no legal requirement to inform homebuyers of a property's flood risk, although the Law Society's guidance on good practice in conveyancing includes notifying clients of the property's risk.
The government ordered a review of flood insurance after storms over Christmas flooded  around100 homes, some of them without adequate insurance. Bright Blue is now calling for the government to continue that review and to reform building regulations and the National Planning Policy Framework to discourage development in flood-risk areas.
A government spokesperson said: "Local authorities have a responsibility to assess the number of homes their communities need and have the final say on planning permissions for new developments. However, flooding risk should always be a consideration to ensure building takes place where this risk is lowest.
"Where development in a risk area is absolutely necessary, sufficient measures should be taken to make sure homes are safe, resilient and protected from flooding.
"To better understand if some households are not receiving sufficient insurance cover, we have announced an investigation into this issue."
The Association of British Insurers (ABI) said extending Flood Re coverage would encourage development on unsafe land and drive up insurance costs for all Britons.
ABI assistant director Mark Shepherd said: "Extending Flood Re to properties built after 2009 is the wrong answer and would mean all homeowners paying the cost for poor development and building on unprotected flood plains.
"We must have a zero-tolerance approach to inappropriate development in flood risk areas and bring forward stronger measures to prevent this from happening, not measures that further incentivise it."