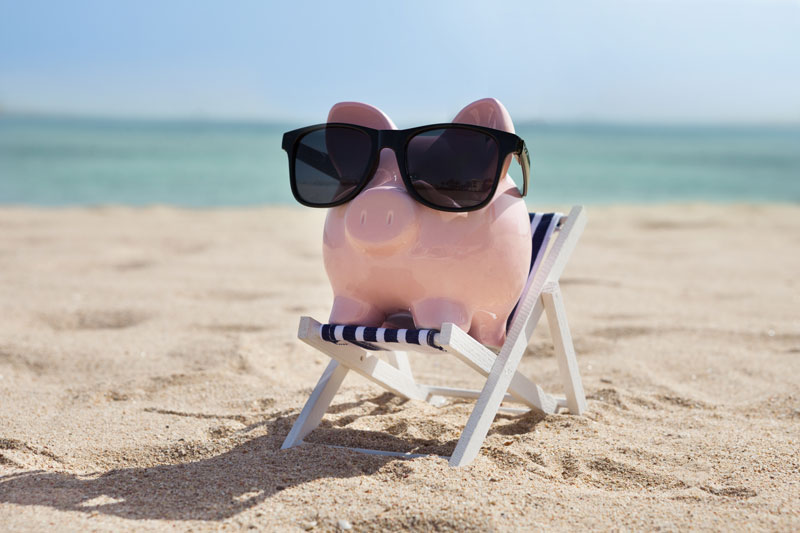 Top Tips for Saving Money While Travelling This Summer
The average British family embarks on holiday twice a year. And while some are splashing out on African safaris and others making do with a caravan park near home, it all averages out to costs of £855 per person, according to data from Nationwide Building Society's spending report.
That means British families are spending around £6,000 per year on holidays, or a quarter of our disposable incomes. And that's when we stick to our travel budgets and avoid the impulse cocktails and swims with dolphins. But nearly six in ten of us admit to overspending on holiday. It's far too easy to justify those extra appetisers and drinks, to garnish package holidays with more activities, upgrade our rental car, and take the flight without the layover so the kids don't revolt. With average overruns of £250 per holiday, it takes Britons an average of three months to pay off their trips.
Looking to cut back on your household expenses? You may want to start with your travel budget. Here's how to reduce costs as you book a trip and keep them from spiralling out of control while you're relaxing.
Consider a staycation
You don't have decamp to the far corners of the world to have fun on holiday. Cost-conscious Brits have long sought out the beaches and attractions of our own island. But as Brexit throws our legal and financial status in Europe into question, and environmental concerns make air travel less palatable, more of us are staying put.  In fact, a holiday rentals site has found that just over half (51%) of Britons are planning their summer retreats on our own shores this year, with Whitby, Devon, and the Lake District the top destinations.
These thoroughly British holidays aren't all Withnail & I and grey seafronts in the rain. You can bunk down in luxury bed and breakfasts, surf off the coast of Devon and Cornwall, and explore stunning British landscapes, from the Peak District to the White Cliffs of Dover. And all without the costs of airfare and currency exchange – not to mention the hassle of remembering your passports.
Fly flexible
Committed to jet-setting this holiday? If you can be flexible on your travel dates, you can find significant savings on tickets. Flight search engines like Skyscanner and Kayak allow you to search for flights a few days or even weeks on either side of your preferred departure and return dates. Although we might all be tempted to leave for a trip on a Friday and come back a Sunday, to sync up with work and school schedules, if you can depart or return on a midweek day like Tuesday or Wednesday you can snag cheaper flights. And if you fly at inhospitable hours, taking the red eye, you can also find savings.
Rent a flat, not a hotel room
Self-catering apartments and Airbnbs are becoming increasingly popular choices for travellers, particularly those looking for more comfortable environments, flexible sleeping arrangements, and more facilities than a standard hotel room with two double beds can offer. With a kitchen, you can cook some meals for yourself, meaning you can cut down one of the largest expenses of holidays—eating in restaurants, with all the temptation and the gratuity.
If you're even more adventurous and looking for a real home away from home, you could even consider couchsurfing (staying for free at someone's house on the basis that you offer up your place for other similarly-minded travellers who visit the UK) or a work-away arrangement.
Live like the locals do
Back in the UK, you don't eat in city centre sit-down restaurants for every meal at home and you don't take a tourist bus or a taxi to get around. Find a more authentic experience in your destination by living as the locals do and save money while you're at it.
That means embracing public transport, or even hitting the streets to walk between attractions—what better way to see a place?  Look for restaurants away from tourist hubs and grab street food on the go—the most authentic and affordable ways to sample a cuisine. Need gifts and souvenirs? Check out weekend markets and shops frequented by actual residents. Not only will you save money, you'll impress your friends at home with gifts beyond the usual postcards and tourist trap tat.
Get travel insurance
But no matter how well you plan and how frugal you are with tickets and tourist attractions, your trip can still be thrown into turmoil, and financial hardship, by misfortune. The cancelled flight, the stolen purse, and medical crisis—worst case scenarios for holidays aren't just rainy days and they can be expensive to handle.
If your luggage is stolen or lost, you may need to replace your swimsuits and toiletries, and even obtain emergency travel documents. If your flight is cancelled or delayed, you may miss embarking on a cruise. If you're pickpocketed, you might lose all the travel cash you took out. You may need medical treatment in a country where it's expensive, and possibly even require repatriation to the UK via air ambulance.
Travel insurance policies can cover these costs and compensate you for these loses. That's why it's a sensible financial precaution for everyone setting out on holiday, whether you're going to Lisbon or Los Angeles. The costs of travel insurance policies will vary depending on your age, destination, and whether you're undertaking any extreme or winter sports while abroad, but you can usually obtain a single-trip policy for under £20, especially if you compare quotes. It's a small upfront cost that can save you a huge headache, and huge expenses, later.