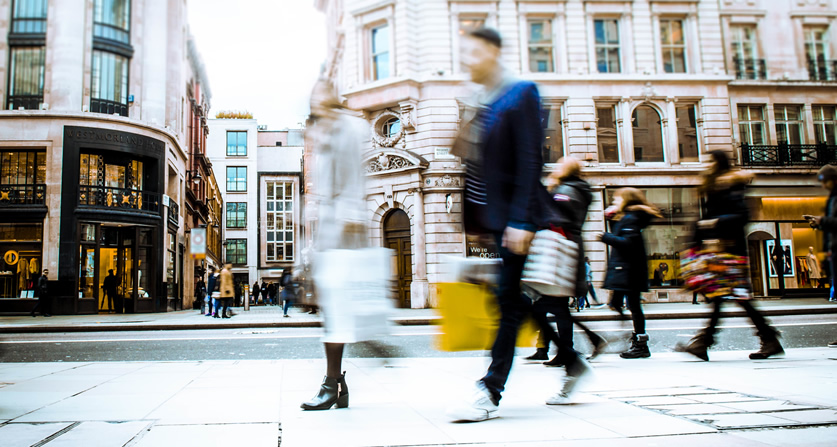 Retail Footfall at Five-Year Low for February
The number of people visiting shops in the UK fell by 2% in February, according to research from the British Retail Consortium and Springboard.
Footfall across high streets, shopping centres and retail parks were all down last month. The number of shoppers visiting stores fell for the 15th month in a row to its lowest point in 5 years. A separate report from accountancy and business advisory firm BDO revealed that retail sales across the UK's high streets was down 3.7% in February compared to last year, the lowest fall in the last decade.
High street footfall was down by 1.9% in February, the seventh month in a row it has dropped. Retail park footfall also fell by 0.8%, compared to a 1.5% rise at the same time last year. However, shopping centre footfall saw the biggest decline last month, falling 3.4%. The BRC suggested that uncertainty surrounding Brexit was to blame for the fall in shopper numbers.
"Consumers have been cautious in their spending, leading to the biggest drop in February footfall for five years," said Helen Dickinson, chief executive of the BRC. "These figures echo the month's poor retail sales figures, which saw weak growth, particularly in bricks-and-mortar stores. While real incomes have been rising over the last year, the uncertainty surrounding Brexit appears to be driving a needs-not-wants approach to shopping.
"Things could get a lot worse unless the government is able to avoid a calamitous no deal Brexit. Such a scenario would likely result in higher costs, higher prices and less choice for consumers – all of which would further harm struggling retailers. The government must act to protect both consumers and retailers by ensuring there is no chance of a no deal Brexit."
Retail footfall in February did in fact see a slight rise during the weeks of unseasonably warm weather, but this was not enough to prevent a significant drop in the overall number of shoppers.
"The 2% drop in footfall in February – a significant worsening from 0.5% in February 2018 – occurred despite the fact that February this year was the hottest on record," said Diane Wehrle, marketing and insights director at Springboard. "The record temperatures only occurred in the final week of the month, when footfall rose by 2.5% compared with drops in each of the preceding three weeks, averaging 3.6%.
"Indeed, the balmy conditions certainly helped the high streets where footfall rose by 4.5% in the last week of the month, compared with an average drop of 4.1% in the preceding three weeks."
Regionally, Scotland saw one of the largest falls in shopper numbers, with a 3.8% year-on-year decrease. In Wales, retail footfall fell by 2.2%, while London saw a slightly lower decline of 1.4%.
"It has been a tough start to the year for the sector and retailers are continuing to fill headlines with poor performances," said Sophie Michael, head of retail and wholesale at BDO. "Brexit uncertainty is proving to have a disproportionate impact on discretionary spending and there's an increasing sense of nervousness among retailers."