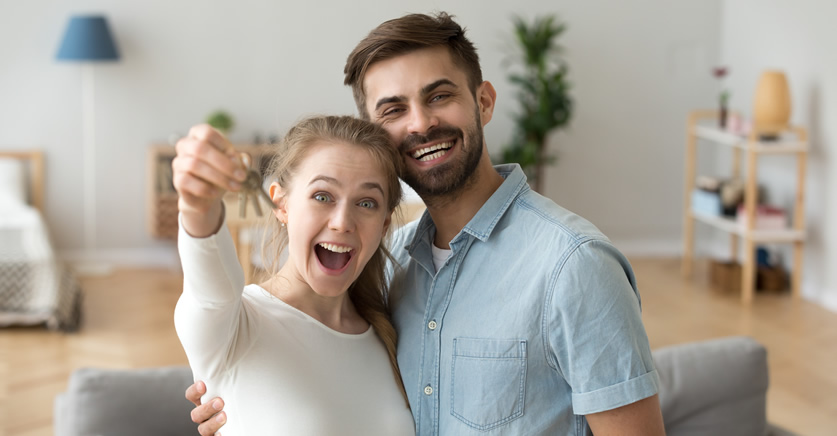 First Time Buyers Helped by Weak House Price Growth
House price growth in the UK remained subdued for the fifth month in a row in April, according to the latest figures from Nationwide.
House prices in the country grew 0.9% in April compared to the same time last year – a slight rise from the 0.7% annual growth seen in March. Annual house price growth has in fact been below 1% every month since December 2018. However, house prices actually fell month-on-month in April, dropping by 0.4% in April. According to the Nationwide House Price Index, the average price of a home in the UK is now £214,920.
Before the Brexit referendum in 2016, house prices in the UK were growing by around 5% each year. But as many market analysts have mentioned Brexit uncertainty as a cause of the subdued growth seen recently, the stagnating prices have helped to attract a growing number of first-time buyers to the market.
The number of mortgages being taken out by first-time buyers today is approaching the levels seen before the global financial crisis in 2008. As well as the slow growth of property prices, first-time buyers are also being attracted to the housing market due to high employment rates, real wage growth and low mortgage rates.
"While the number of properties coming onto the market has also slowed, this doesn't appear to have been enough to prevent a modest shift in the balance of supply and demand in favour of buyers in recent months," said Robert Gardner, chief economist at Nationwide.
"While the ongoing economic uncertainties have clearly been weighing on consumer sentiment, this hasn't prevented further steady gains in the number of first-time buyers entering the housing market in recent quarters. Indeed, the number of mortgages being taken out by first-time buyers has continued to approach pre-financial crisis levels in recent months."
While low mortgage rates, the strength of the labour market and projects such as the government's Help to Buy scheme are helping first-time buyers get onto the property ladder, the biggest obstacle remains raising a large enough deposit.
"First time buyer numbers have been supported by the strength of the labour market conditions, with employment rising at a healthy rate, and earnings growth slowly gathering momentum," said Gardner. "While house prices remain high relative to average earnings, low mortgage rates have helped to support mortgage affordability. Indeed, raising a deposit appears to be the major barrier for prospective first-time buyers."
Jeremy Leaf, former residential chairman at RICS, said: "Soft growth in the last set of figures from Nationwide is continuing and confirmed on the high street. Clearly, Brexit uncertainty in the minds of homebuyers is still outweighing almost record low mortgage rates and employment numbers as well as improved affordability. A glimmer of good news is that first-time buyers are taking advantage, particularly of help to buy and deposits from the bank of mum and dad, not forgetting reduced competition from landlords."