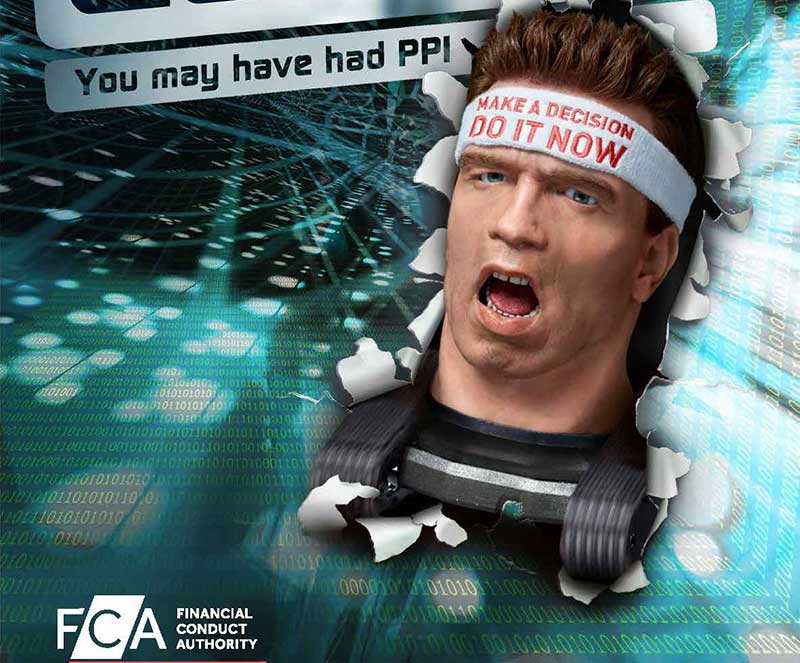 Do It Now! Arnie Ad Helps Push PPI Complaints Hit 4-Year High
A new advertising campaign from the Financial Conduct Authority (FCA) using Arnold Schwarzenegger's robotic head seems to have contributed to a 40% rise in claims of PPI mis-selling.
In the ads, Arnie tells consumers to 'do it now', with the deadline for claims registration little more than a year away (29th August 2019).  Mounted on wheels, his disembodied head pursues shoppers around a store, telling them to stop procrastinating and make an enquiry into the possibility of getting a PPI claim.
According to the FCA's press release, 1.55 million complaints about PPI were made in the second half of 2017, a rise of 427,032 from the first half of the year.  The rise in PPI claims was mostly responsible for the overall 13% rise in complaints made to financial services firms.
In January 2018, firms paid out £415.8m to compensate customers whose complaints were upheld, the highest figure for a single month since March 2016.  This takes the overall total paid out since January 2011 to £30 billion.  For comparison, this is more than twice as the price of London's Crossrail project.
The PPI scandal has been on the most expensive of its kind in UK history, caused by the practice of banks or other financial institutions selling Personal Protection Insurance alongside other products, such as credit cards deals, loans or car finance deals without customers' prior approval.  PPI is designed to protect people's finances if they became ill, disabled, unemployed, or even deceased. However, in many cases potential benefits would return less than the amount intended, or were even impossible to claim, and in many cases the insurance was unnecessary or inappropriate.
Banks have had to put aside substantial sums to cover claims from customers –The Guardian reported that the banking group CYBG setting aside £350m for claims led to a 6% fall in its shares.
Christopher Woolard, the executive director of strategy and competition at the FCA, said: "Having set a deadline for PPI complaints, we are encouraging consumers to decide whether they want to claim, and if they do, to make their complaint as soon as possible, as many already have.  We are continuing to monitor and challenge all firms to ensure they maintain the expected standards, and are delivering on their commitments to make it easy for people to complain about PPI."